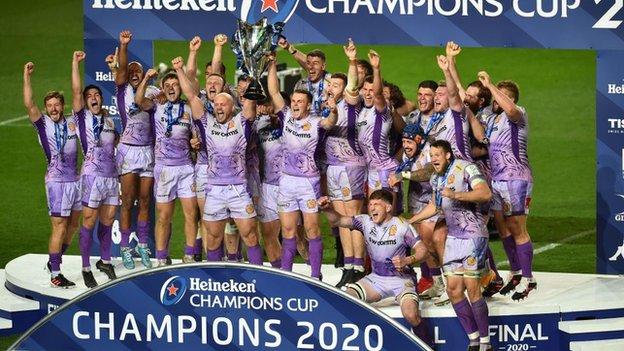 Exeter (21) 31
Try:
Cowan-Dickie, S Simmonds, Williams, Slade
The inconvenients:
J Simmonds 4
Pen:
J Simmonds
Race 92 (12) 27
Try:
Zebo 2, Imhoff, Cat
The inconvenients:
Russell, Machenaud
Pen:
Machenaud
The Exeter Chiefs had just enough to keep Racing 92 at bay and clinch their first Champions Cup title in a thrilling final at Ashton Gate.
Luke-Cowan Dickie, Sam Simmonds and Harry Williams broke in to give Exeter a nine-point lead at the break.
But Racing came back with Simon Zebo's second try and Camille Chat's push bringing them back to a point.
Exeter, reduced to 14 men after the yellow card from Tomas Francis, held out heroically to lift the title.
In the last 10 breathless minutes, Racing turned down the dropped goal opportunity as they made their way through the phases within five yards of the line, Exeter substitute Sam Hidalgo-Clyne achieving a turnover in the shadow of his own positions and captain Joe Simmonds taking down a penalty. with the last act of the match.
Even then, the drama was not over.
The match clock initially showed that Racing had three seconds left to restart and mount a final assault. However, after consulting with his team officials, referee Nigel Owens confirmed that the clock did not restart when Simmonds fielded his penalty and it could explode, setting off some delirious celebrations.
The victory marks the culmination of a remarkable decade for Exeter, who first won promotion to the Premiership in 2010 in a Bristol play-off at the city's Memorial Stadium.
Rob Baxter's side will look for a brace next weekend when they face the Wasps in the Premiership final.
Styles make matches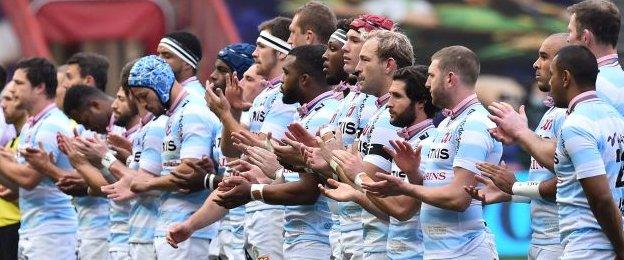 The clash of styles was clear as soon as the teams emerged into an empty Ashton Gate forced by coronavirus.
Racing 92 trotted on the ground dressed in pink bow ties, a nod to the rapid past of the Parisians in freedom.
Exeter paraded business-like, dark-faced and forward-looking, through a glove of their replacements and backstage staff.
The races brought bursts of color and panache, but the mastery of close-range trench warfare leaders ultimately kept them one step ahead throughout an exciting competition.
Running scrum half Teddy Iribaren was lucky enough to give his team an early platform. Instead, he missed a penalty as he aimed for the corner and five minutes later Cowan-Dickie made his way through the middle of a trained maul for the first down.
Iribaren's eccentricities continued as he went blind to put pressure on Juan Imhoff before Russell juggled his own end zone. The races came under pressure and Exeter happily pushed them past the breaking point.
Sam Simmonds burst through his counterpart Antonie Claassen at the end of a series of short-range bursts from his fellow attacker.
Fourteen points ahead with just 16 minutes gone, Exeter chairman Tony Rowe looked like he was struggling to keep his fun in the stands under control.
But Racing refused to go quietly.
Russell's cut pass tempted Tom O'Flaherty out of position and cleared a way to the corner for Zebo before Imhoff slipped through the marginal defense to close the lead to two points.
Harry Williams crossed paths at half-time for the Chiefs but Zebo, out of contract next summer, showed his quality with another powerful finish to keep the French side in a scoring early in the second half.
In the end, Racing's mistakes undermined their luster.
Two minutes after Zebo's second, with momentum from the French side, Scottish flyback Russell threw a looping wrong pass just outside his own 22m. It could have triggered a counterattack. Instead, he was kidnapped by an alert Jack Nowell who put Henry Slade under the posts.
This score brought Exeter to 28 points, a Racing total could never be revised despite Cat's bulldozer test and his late pressure.
Russell's percentages are insufficient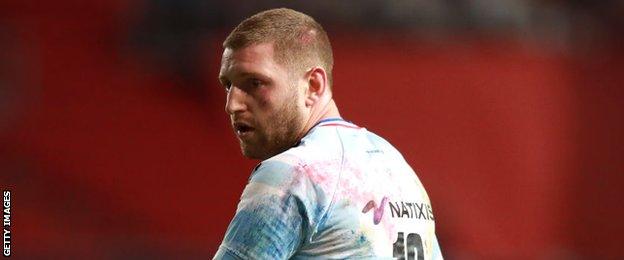 British and Irish Lions coach Warren Gatland was one of the few spectators in the final behind closed doors.
Russell's performance will have given him food for thought.
The brilliant Scottish semi-final chip created a dramatic late score that sidelined defending champions Saracens in the semi-finals and there were moments of vision and precision against Exeter.
However, its high risk, high reward gambling means costly mistakes are inevitable as well. Even before his pass was intercepted for Slade's try, his juggling behind his own line had almost given Exeter a score in the first half.
Will Gatland feel he can afford that compromise in the white heat of a test run against world champions South Africa next summer?
Man of the Match – Jonny Hill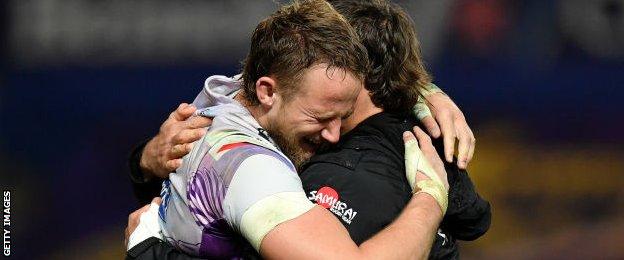 Analysis
Former England scrum-half Matt Dawson on TBEN Radio 5 Live: "It's an incredible achievement for Exeter. There can't have been any other winning team that has only been in the top spot in their league for 10 years. And they deserve it because they were the best team. this season.
"I don't think I've seen a final like that – they tend to be more wary. When a team goes as far as Exeter you thought it was a one-sided show, but it was Exeter who went. 'hung at the end.
"Sport does strange things to your emotions and there was tremendous tension and drama even in an empty stadium."
Former England center Jeremy Guscott: "Exeter are a team while Racing have individuals. Exeter finished the game with 14 players on the pitch but supported himself in a defensive position and won it together."
Line-up
Exeter: Hogg; Nowell, Slade, Whitten, O'Flaherty; J Simmonds (captain), Maunder; Hepburn, Cowan-Dickie, Williams, Gray, Hill, Ewers, Vermeulen, S Simmonds.
Alternates: Yeandle, Moon, Francis, Skinner, Kirsten, Hidalgo-Clyne, Steenson, Devoto.
Race 92: Zebo; Dupichot, Vakatawa, Chavancy (captain), Imhoff; Russell, Iribaren; Ben Arous, Chat, Colombe, Le Roux, Bird, Lauret, Sanconnie, Claassen.
Alternates: Baubigny, Kolingar, Oz, Ryan, Palu, Machenaud, Klemenczak, Beale.
Arbitrator: Nigel owens