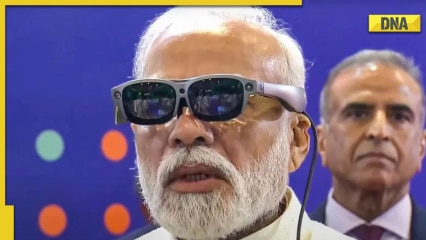 Prime Minister Narendra Modi wears Jio Glass at IMC. (Image: PTI)
Jio Glass is not a new product, but it has been popular on the internet lately since Prime Minister Narendra Modi used Jio Glass at the India Mobile Congress where he officially launched the 5G network in the country. Jio Glass immediately caught everyone's attention and so far people are curious about the wearable device unveiled by Reliance Jio in 2020. It is worth noting that while it has been nearly 2.5 years since the product was first showcased at the Reliance Industries Limited (RIL) 43rd Annual General Meeting (AGM), details of Jio Glass pricing are yet to be announced, but we do know the features and usage of the device.
What is Jio Glass

As mentioned earlier, the Jio Glass is a smart wearable device that allows users to experience augmented reality (AR) and virtual reality (VR). The product was created in collaboration with technology giant Google and is very similar to Google's smart Glass. The wearable Jio Glass has a camera right above the bridge and a speaker placed on each stem. Apart from this, Jio Glass also gets two microphones. There is also a processor on the device, but the details have not been disclosed. The Jio Glass is intended for virtual classrooms and office spaces where users can interact with each other in mixed reality.
How Jio Glass works

The Jio Glass uses all its components to create a mixed reality around the user. The microphones and speakers allow users to talk to other participants during a virtual call, while the glasses display the participants' 3D holographic image or 2D avatar. All this happens in a virtual space that imitates real life. The device currently supports 25 different video conferencing apps.