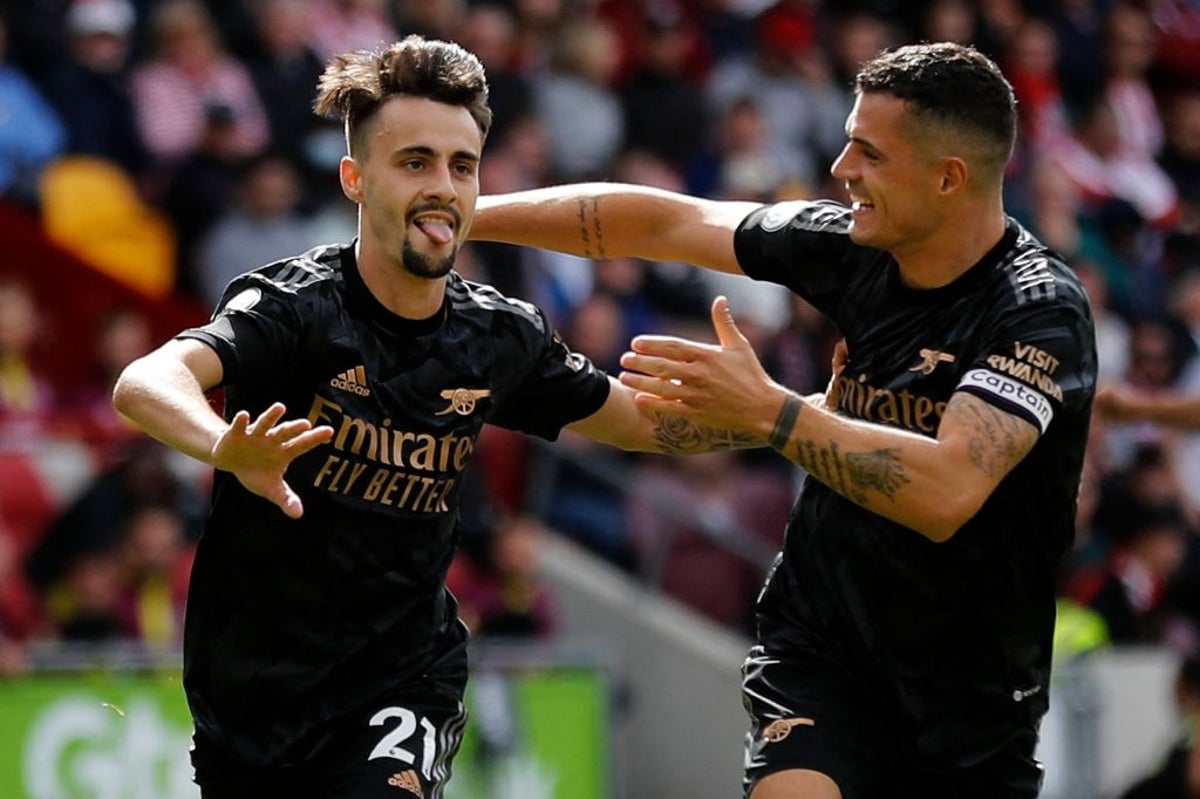 Arsenal climbed back to the top of the Premier League and avenged last year's humiliation at Brentford with a clinical 3-0 win.
The Gunners were back on the scene from their dire defeat on opening day last season, heralding their worst start to a campaign in 67 years.
But they are another animal of this term and proved it with an organized, inventive display and three well-received goals from William Saliba, Gabriel Jesus and Fabio Vieira.
Arsenal's dominance was such that Mikel Arteta could even afford to give 15-year-old midfielder Ethan Nwaneri a late striker as a substitute, making him the Premier League's youngest player.
Brentford have passed Manchester United four times and Leeds five at the Gtech Community Stadium in recent weeks, but they couldn't pinpoint Arsenal with new England boy Ivan Toney, an isolated presence on the offensive.
Gabriel Martinelli had already missed a good chance when the Gunners took the lead in the 18th minute, Saliba's header from a corner from Bukayo Saka bounced off the inside of the far post.
Beekeeper David Raya tried to scoop the ball out, but the ball was well over the line and referee David Coote's watch buzzed to signal a goal.
Ten minutes later, Jesus doubled the lead with another header, this time from a clean chip in Granit Xhaka's penalty area.
Saka should have made it three moments later after a defensive mix-up, but the England winger fired his shot over.
The second half started in a similar vein and when Saka put the ball to Vieira 25 yards away, the Portuguese midfielder – on his first Premier League start since his £34m move from Porto – took aim and curled a stunning finish off the post. .
Toney's only real chance came with a free kick, from around range, to net in the second goal of his hat-trick against Leeds.
This time, the 26-year-old shot the ball high before aiming and his shot narrowly went over the bar.
After scoring two goals, Saka attempted one of his own, but was denied from the edge of the penalty area by a flying save from Raya.
Toney had tweeted "nice kickabout with the boys" in the wake of last season's win, a post that infuriated Arteta.
Arsenal fans were quick to remind the striker, finishing the game with a rendition of "Ivan Toney, a walk in the park" as they celebrated en route to the international break at the top of the league.