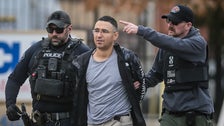 Police in Albuquerque, NM, on Monday arrested Solomon Peña, a former Republican candidate for the House of Representatives, in connection with multiple shootings of local Democratic politicians, authorities said.
Albuquerque Police Chief Harold Medina said Peña is charged with conspiring with and paying four other men to shoot at the homes of two county commissioners and two state legislators. He was arrested after a brief confrontation with a local SWAT team.
The department has investigated at least six shootings, which took place between December 4 and January 5. Four of those have been linked to Peña, police said, and two others are still under investigation.
"He is believed to be the mastermind behind this," Medina said at a news conference Monday, per NBC News.
At least 12 bullets were fired at a county commissioner's home during an attack on Dec. 11, the Albuquerque Journal reported. During another shooting on Jan. 3, multiple shots were fired at the home of State Representative Linda Lopez, including three bullets that passed through her 10-year-old daughter's bedroom.
Peña launched an unsuccessful bid for New Mexico's 14th House district in 2022, losing by 47 percentage points to his Democratic opponent, State Representative Miguel Garcia. The Albuquerque Journal notes that Peña has continued to dispute the results of the race, claiming election fraud.
He faced criticism during his bid after Garcia filed a lawsuit to have him disqualified from his position over a 2008 conviction for theft in a "smash and grab" robbery. He served seven years in prison, but a judge ruled that local laws barring convicted felons from serving were unconstitutional.