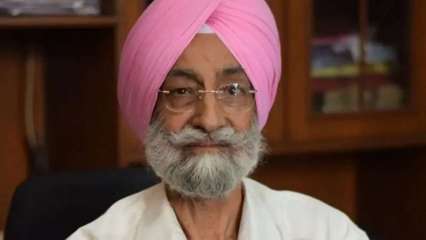 Bhupinder Singh Mann, one of four experts appointed by the Supreme Court to negotiate with farmers, has reportedly received threats from Canada after stepping down from the SC-appointed committee. Mann, who is the president of Union Bhartiya Kisan (BKU), said on Thursday he was stepping down from the panel.
In a tweet, Union Bhartiya Kisan said: "Bhupinder Singh Mann, former member of parliament and national president of BKU and chairman of the All India Kisan coordinating committee, has stepped down from the four-member committee set up by the Supreme Court.
The BKU also tweeted an unsigned textual statement allegedly posted by Mann.
"While grateful to the Indian Supreme Court for appointing me to the 4-member committee to start a dialogue with the Kisan unions on the three laws introduced by the central government. As a farmer myself and as a union leader , in view of the feelings and apprehensions prevalent among the agricultural unions and the general public, I am ready to sacrifice any position offered to me or given to me so as not to compromise the interests of the Punjab and the farmers country, I recuse myself from the Committee and I will always stand by my farmers and the Punjab, "Mann said.
The Supreme Court on Tuesday put the three new contentious farm laws on hold and ordered a committee headed by a former chief justice of India to break the deadlock between the Center and the farmers against the laws.
"Representatives of all farmers' associations, whether or not they organize a protest and whether they support or oppose the laws, participate in the deliberations of the Committee and present their views. The Committee, after having heard the Government also because the representatives of the associations of farmers and other stakeholders submit a report to this Court containing its recommendations ", noted the SC.
The SC has also suspended the implementation of agricultural laws until new orders. "In addition, the properties of farmers will be protected, meaning that no farmer will be dispossessed or deprived of his title as a result of any action taken under agricultural laws," the SC said.
.