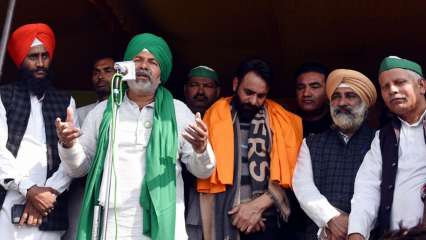 Farmers who protest gherao parliament if the central government does not repeal agricultural laws, warned Bharatiya Kisan (BKU) leader Rakesh Tikait. This time there will be forty lakh tractors instead of 4 lakh, he added.
Tikait also called on protesting farmers to be ready as there may be a call to march to Delhi at any time.
Will farm in the lawns of India Gate
Speaking to United Kisan Morcha's Kisan Mahapanchayat in Sikar, Rajasthan, Tikait said, "These farmers will remain at the Delhi borders, as will the tractors. This time the march will be towards Parliament. There will be forty. lakh tractors and not four lakh. "
He said the farmers would farm in the lawns near the Gateway of India and also grow crops. He added that the date of the march will be decided by the United Front.
Referring to the violence that erupted on Republic Day after some protesters clashed with the police, the farmers' chief said: " In the January 26 case, there was a conspiracy to defame the farmers of the country. The country's farmers love the tricolor, but the rulers don't. "
Farmers will also demolish corporate goddesses
Tikait said the government has an open challenge from farmers that if it doesn't repeal the three farm laws and implement the MSP, then the farmers will demolish the big business goddesses. For this, the United Front will also give a date shortly. The Mahapanchayat was also addressed by Yogendra Yadav, the leader of the Swaraj movement, Amararam, the national vice president of All India Kisan Sabha, and several peasant leaders, including the national secretary general of the Kisan Union, Chaudhary Yudhveer Singh. Earlier, Tikait also addressed a gathering of farmers in Sardarshahar of Churu district.
.