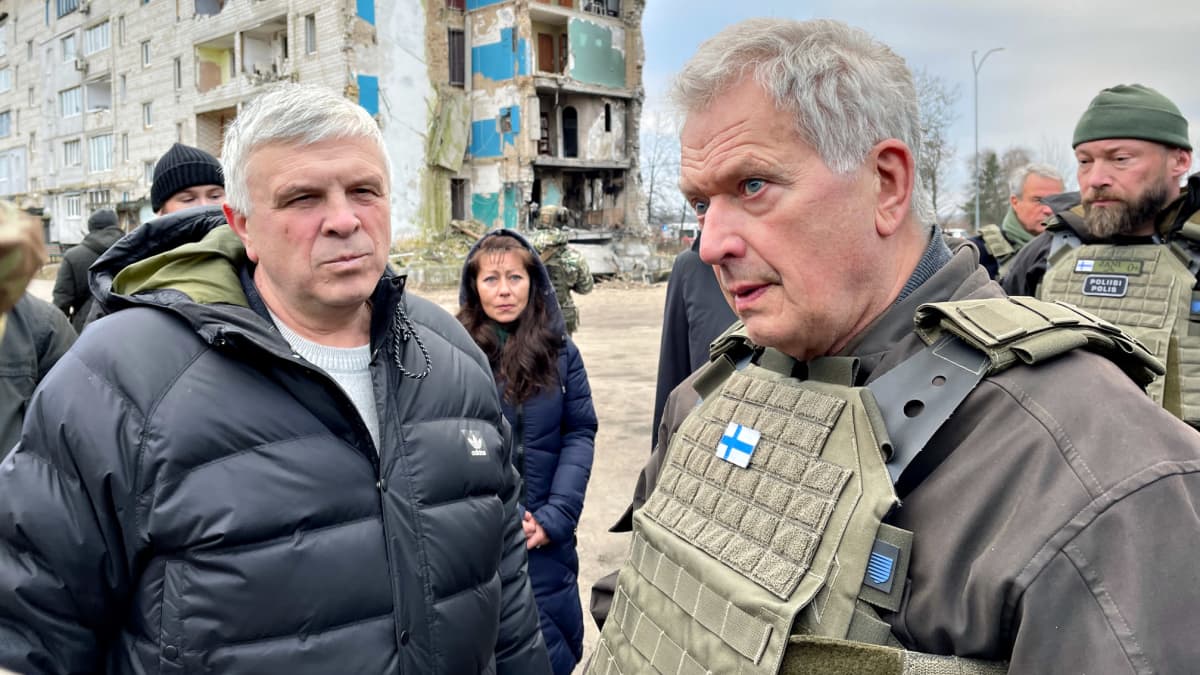 Niinistö's visit to the war-torn country was not publicly announced in advance due to security concerns.
Finnish chairman Sauli Niinistö visited Kyiv, Ukraine on Tuesday, meeting with president Volodymyr Zelensky and visited Borodyanka and Bucha, cities devastated by Russian attacks.
Niinistö's visit to the war-torn country was not publicly announced in advance due to security concerns, as Russia seeks to depose the Ukrainian president and his government.
Yle's correspondent, Mika Makelainenwho followed Niinistö in Borodyanka reported that security measures surrounding the visit were very strict, with Niinistö's entourage being protected by several armed soldiers.
Borodyanka's City Council Chief, Georgy Erkoreceived Niinistö during his visit.
"They had many things in common to discuss. They found similarities in the [past] wars in Finland and the situation in Ukraine," said Mäkeläinen.
Members of the media were barred from accompanying Niinistö's group to Bucha, a town near the Ukrainian capital where Russian troops killed hundreds of people last spring, an event since known as the Bucha massacre.
The chairmen discussed Finland's support to Ukraine
During Niinistö's meeting with Zelensky in the afternoon, the presidents discussed Finland's support for Ukraine, the president's office said.
Niinistö said the possibility of Finland supplying Leopard 2 main battle tanks to Ukraine is still an open question.
"We are the only non-NATO country with leopards. We also have a long border with Russia that must be taken into account," Niinistö noted during a joint press conference with his Ukrainian counterpart.
To date, Finland has provided approximately EUR 600 million in military aid to Ukraine.
Zelensky thanked the Nordic country for taking in Ukrainians fleeing the war.
About 40,000 Ukrainians have sought help in Finland since Russia first invaded Ukraine. Finland expects a similar number of Ukrainians this year.
Niinistö also commented on the upcoming NATO membership of Finland and Sweden.
"I will combine a statement of my own with that of our Secretary of State, Pekka Haavisto (Vegetable). "Keep your eyes on the ball, but don't be a ball yourself." So we have to take it easy. It seems that we have to wait for the elections in Turkey [before Nato accession]' said Niinistö.
The Finnish president also placed a wreath on a memorial wall in the capital, which honors the Ukrainians killed in the war. Niinistö would also speak and meet students at a university in Kiev.
The presidential visit was only publicly announced after Zelensky moved a certain distance from where the press conference was being held.