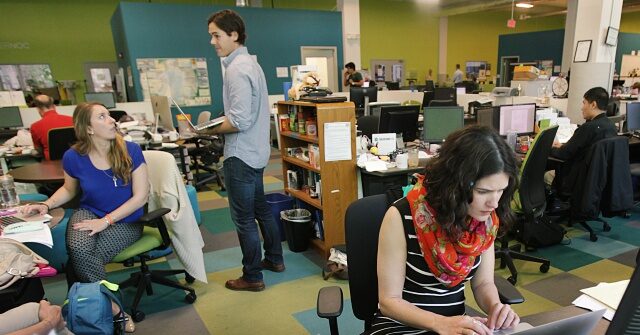 Laid-off US professionals, who say they have been replaced by foreign H-1B visa workers imported from India, last week reached a $4.65 million settlement against their former employer, Indian outsourcing company Larsen & Toubro Infotech (LTI) .
LTI announced the multi-million dollar settlement with Americans who filed a lawsuit against the company after saying they were fired and replaced by foreign H-1B visa employees from India.
According to the initial lawsuit filed by Markus Meyenhoffer and Andrew Ragland, along with hundreds of other laid-off Americans, LTI executives allegedly deployed a "four-pronged policy and practice of discrimination" designed specifically to exclude foreign H-1B visa workers from India advantage with little to no experience over qualified Americans.
The lawsuit describes the alleged policy:
First, LTI reportedly maintains an "inventory" of "visa-ready" employees from India to fill positions at the company by petitioning the federal government's lottery program to cancel a large number of H-1b visas. to gainand preferences for hiring this pool of applicants over U.S. citizens and visa-required persons who are not from South Asia (particularly India). [Emphasis added]

…

Second, LTI's internal and external recruiters in the United States disproportionately select South Asian and Indian applicants based in the United States on non-South Asian, non-Indian applicants based in the United States, even if applicants are less qualified. [Emphasis added]

Third, LTI promotes South Asian, Indian visa holders at disproportionately high rates, in particular by giving these employees higher scores on their quarterly and annual employee appraisals. [Emphasis added]

Fourth and finally, LTI terminates non-South Asian, non-Indian and non-visa holders at disproportionately higher ratespartly because these workers are more likely to be relegated to the "bench" and then not deployed on more projects. [Emphasis added]
Specifically, the lawsuit alleged that "while 12 percent of the IT industry in the United States is South Asian, 95 percent or more of LTI's workforce is South Asian and consists primarily of non-citizens of India."
More than a decade ago, LTI was charged with H-1B visa fraud.
White Collar Workers of America posted on Twitter how, despite the claims against LTI, the company continues to import thousands of foreign H-1B visa workers for U.S. tech roles.
Only 3% of H-1B visas were subsequently denied for Larsen & Toubro #H1Biden became chairman.#H1Biden is the outsourcing chairperson. pic.twitter.com/EbjxQvNUwW

— White Collar Workers of America (@WCWOA) January 13, 2023
Breitbart News has for years chronicled the abuses against American white-collar professionals as a result of the H-1B visa program. There are approximately 650,000 foreign workers on H-1B visas in the US at any given time. Americans are often fired in the process and forced to train their foreign replacements, as highlighted by Breitbart News.
Nearly all of the H-1B visa reforms imposed by former President Trump have been reversed by President Joe Biden. Last year, for example, Biden allowed companies that had been denied foreign H-1B visa workers by the Trump administration to reapply.
John Binder is a reporter for Breitbart News. Email him at [email protected]m. Follow him on Twitter here.