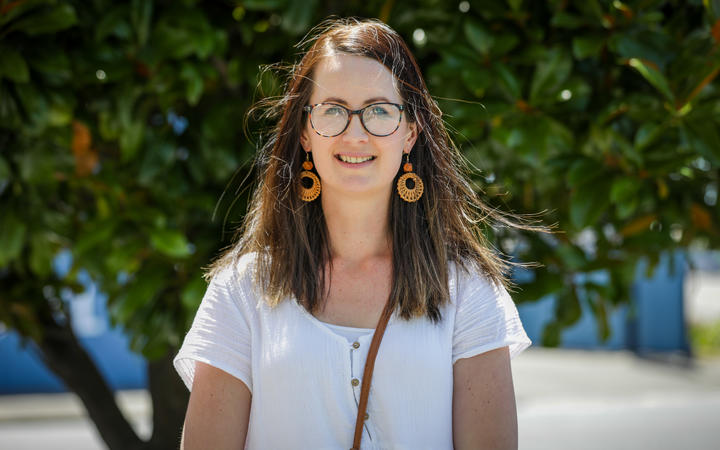 Disclaimer: This story contains firsthand accounts of the Christchurch earthquake in 2011 which may be distressing for some readers.
Some have probably told their story several times to their friends and family. Their stories are all fragments of the same story – the story of a shattered city.
Those who were in Christchurch on February 22, 2011 all have a story to tell.
Some have probably told their stories multiple times to their friends and family – they got used to it and the stories set the day for them.
They are all talking about the same day, the stories are happening simultaneously, they overlap – people cross paths and help each other.
Their stories are all fragments of the same story – all small pieces of a bigger story – the story of a shattered city.
RNZ celebrates the 10th anniversary of the major earthquake of February 22, 2011 with Fragments, produced and presented by Christchurch-based journalist Katy Gosset.
The series brings together an archive of first-hand accounts recorded in the months following the devastating earthquake, by locals Julie Hutton and Sandra Close.
Ten years later, RNZ spoke with some of the survivors to reflect on their experiences.
How did surviving the earthquake change their way of life?
Episode 2: The PGC Building
The Pyne Gould Corporation (PGC) building was located at 233 Cambridge Terrace until moments after the February 22 earthquake.
He suffered what has been described as a "catastrophic" collapse.
Built in 1966, the five-story building near the Strip Rotunda in the city center housed six businesses.
A report for the Ministry of Business, Innovation and Employment (MBIE) by Beca after the earthquake found that the tremors suffered were "several times greater than the loads the building was supposed to withstand."
However, he concluded that despite other previous earthquakes, "there was little or no sign that the building had been significantly affected by the tremors that had occurred, or that the collapse was a possibility ".
Eighteen people died when the building collapsed.
This episode is about those who were inside the building and those who came to the rescue.
Inside
Monique Mclennan had just started heating her lunch when the earthquake hit and she was trapped inside.
"I started the process of regret, I would have liked to do that with my life; I would have liked to do that; I would have liked to tell my family that I love them one last time.
She took refuge under a desk – and still remembers the feeling of pressure on her – and the fear.
Sometimes the smell of dust can bring her back. She was diagnosed with acute post-traumatic stress disorder and subsequently lost her job.
But in the 10 years since the earthquake, she says her life has "changed dramatically" and for the better.
"I sort of look at my life now in two very different eras. There was Monique before the earthquake and then there is Monique after the earthquake. And they are such different people.
"Once I got over all of my post-traumatic stress, I kind of decided 'you know what I only have one life to live with so why am I trying to work in these limits that other people put in front of me? '. "
Watch episode 1 here
Summer Olliver was also inside.
"He was bigger than everyone else and all I remember is falling to the ground and trying to get under my desk … to prove how fast my leg was still hanging off the desk and a six tons the beam had fallen on my lower back. "
It was a life changing event. The damage he caused resulted in healing and treatment of the pain. It's an experience you have more than you remember, she says.
The decade after the earthquake also saw good things for the summer. She is married and had two children. Having to be so organized in her pain management also made her organized in her parenthood.
And she feels a kinship with others who have suffered trauma; other earthquake survivors, victims of Whakaari / White Island and families of those who died in the attacks on the Christchurch mosque.
Outside
Outside the building, people were preparing to come to the rescue almost as soon as it collapsed.
Dave Lang worked next door. From his office, he saw the PGC building collapse about 30 meters away.
"Towards the end of the shaking I turned and looked out the window and as I did I saw the Pyne Gould building crumble and it … it … it just seemed right. come down like that and with the sound of living water, which I guess was breaking glass, concrete, etc. "
Lang and his colleagues were among the first on the scene.
Meanwhile, Deputy Fire and Emergency Zone Commander Steve Kennedy was on his way.
"The tremors had stopped so basically from there that I thought, 'hey, look, we've got to organize everyone'."
With fire trucks on the road, at one point, "a guy came running through the crowd and he said," look, the PGC building collapsed ", so I decided to take my device. around that. "
Construction contractor Peter Riley was also in action.
He was at home doing some paperwork then tried to contact his daughter and then his friend Tony Tamakehu who runs a rigging and lifting equipment supply business.
They walked towards the PGC building.
"Tony picked me up, outfitted me, jumped into the usté and walked in.
The couple were among those who worked to free the survivors trapped inside.
Tony still lives in Christchurch – unlike Peter, who has moved.
He still has the same job. He tries to say yes to travel or other opportunities if he can. "Life is short," he says.
There were a few changes, all the normal life stuff that Tony values. He is separated from his wife and lives in an apartment in the city, very close to the site of the PGC building.
"I pass it every morning. Every once in a while I'm going to walk by and sit in the little seat they have over there, think a bit. Think about the people who are not with us anymore. Yeah. How it affects Their families. "
You can learn more about the lives of earthquake survivors 10 years later by listening to Fragments Episode 2: The PGC Building.
Fragments is written and presented by Katy Gosset and co-produced by Gosset and Justin Gregory. It is designed by Alex Harmer and Rangi Powick. Video content is by Nathan McKinnon. Tim Watkin is the executive producer of podcasts and series.
Thanks to Julie Hutton and Sandra Close for their work recording the interviews and to those who agreed to be re-interviewed by RNZ.
Where to get help:
Need to talk? Call free or text 1737 anytime to speak to a qualified advisor, for any reason.
Lifeline: 0800543354 or send HELP to 4357
Telephone assistance in the event of a suicide crisis: 0508 828 865/0508 TAUTOKO (24/7). This is a service for people who are thinking about suicide or for those who are concerned about their family or friends.
Telephone support for depression: 0800 111 757 (24/7) or text 4202
Samaritans: 0800 726 666 (24/7)
Youthline: 0800 376 633 (24/7) or free text 234 (8 am-12pm), or email [email protected]
What's New: Online Chat (3 p.m.-10 p.m.) or 0800 WHATSUP / 0800 9428787 (12 p.m.-10 p.m. weekdays, 3 p.m.-11 p.m. weekends)
Kidsline (5 to 18 years old): 0800543754 (24/7)
Rural Support Trust helpline: 0800 787 254
Health line: 0800 611 116
Rainbow Youth: (09) 376 4155
If this is an emergency and you feel you or someone else is at risk, call 111.
.