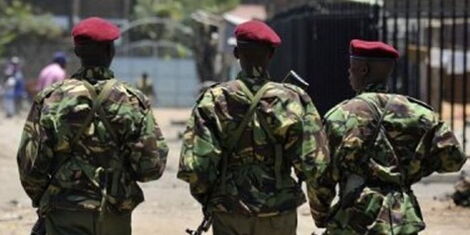 Social media was flooded on Wednesday morning, Aug. 3, with a video of a foreigner in a violent altercation with security guards at AdLife Plaza in Kilimani, Nairobi County.
In a video shared by journalist Saddique Shaban, the foreigner threw insults at two guards before reinforcements arrived to intervene and stop him.
The foreigner was knocked down, but continued to fight back and tried to kick the guards in an attempt to free himself.
An unknown friend ran to the aid of the foreigner, pushed the guards away and tried to get him out of the scuffle.
"I want you one-on-one," the foreigner hears the guards say after he gets up.
The lady stepped out in front of the guard to stop them and prevent them from hitting him again, but to no avail.
A uniformed police officer rushed to the scene and began restraining the stranger. At the time, passers-by gathered on the spot expressed their disapproval of the foreigner's insults and wanted to attack him.
Calm returned after the stranger was handcuffed and taken into custody.
According to Shaban, the couple had just left a club in the square after a night of revelry. They broke a glass of sauce and made a fuss when asked to pay for the item.
"The couple had just left a club located in the property. They broke a glass of sauce, but wouldn't pay for it. They started attacking the guards and the workers," he said.
Efforts by TBEN.co.ke to reach Kilimani OCPD were futile as he was unreachable for comment.
The journalist also denounced that he was attacked by an officer in plain clothes.
Quick police action saved the couple from further anger from the public. The drunken duo were taken by plainclothes officers who attacked me during filming and confiscated my ID card shortly after the last frame. You can see the officer facing me come," he claimed.
Kenyan police officers in a previous security operation.
TBEN
fight