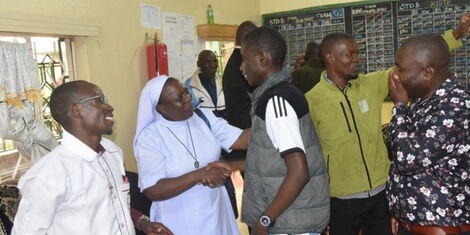 Top candidates in the 2022 Kenya Certificate of Primary Education (KCPE) examination will join prestigious national schools after the completion of Form One Placement.
An on-site inspection TBEN.co.ke determined that Fwaro Makoha Robinson and Lewis Omondi Otieno were placed at Alliance High School.
Fwaro and Omondi were joint top scorers after both amassed 431 points – the best in the country, as announced by Education Minister Ezekiel Machogu.
Otieno Lewis Omondi after arriving at St. Peters' Elementary School to celebrate the release of KCPE results on Wednesday 21 December 2022
Twitter
Kakamega updates
TBEN.co.ke also followed Ivy Chepkoech Rotich, the best girl with 429 points in the national test.
Speaking to an administrator of Sally Ann Schools in Litein County, the official confirmed that the student would be joining one of the top all-girls schools in the country.
"We got the good news this morning; she was called to attend Kenya High School," the staff member confirmed in a telephone interview.
In releasing the results of the placement process, CS Machogu revealed that candidates who scored more than 400 points were placed in national or extra-county schools of their choice.
On December 21, Fwaro announced that Alliance High was his dream school after which he would attend college to earn a degree in Software Engineering.
For his part, Omondi shared in the same dream to attend the prestigious national school and later become an engineer like his father.
However, a ministry report found that the best school is not among the top 10 preferred institutions in 2022.
The top boys' schools were Kabianga High, Nanyuki High, Nyandarua High, Maseno School, Nakuru High, Kapsabet Boys and Mangu High School.
On the other hand, Pangani Girls, Alliance Girls and Butere Girls' High School topped the list of exclusive girls' schools.
All Form One students are expected to report to their respective schools between February 6 and 13. Candidates can view their placement results here.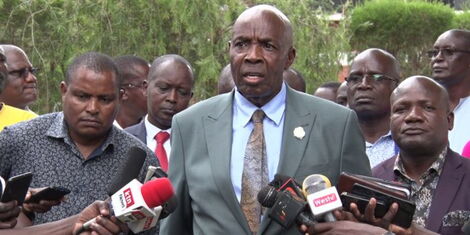 Education Cabinet Secretary Ezekiel Machogu during the release of Form One placement at the Kenya Institute for Curriculum Development on January 16, 2023
Facebook
KNEC