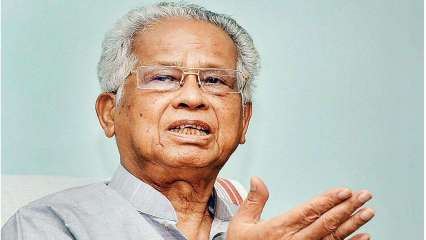 The state of health of Tarun Gogoi, veteran congressional leader and three-time chief minister of Assam, deteriorated on Saturday due to post-Covid-19 complications in addition to multi-organ failure, said the Minister of Health of Assam, Himanta Biswa Sarma.
Following post-Covid-19 complications, the 85-year-old veteran politician has been on non-invasive ventilation (NIV) since being admitted to Gauhati Medical College and Hospital (GMCH) on November 2 and put on invasive ventilation.
Sarma said that on Saturday afternoon, Gogoi's condition deteriorated with breathing problems, and then doctors started an intubation ventilator, which is mechanical ventilation.
Gogoi is unconscious and has suffered from multiple organ failure, the minister added.
"Doctors are trying to revive his organs with drugs and other medical methods. Doctors will also try dialysis," the health minister said, adding that the next 48 to 72 hours are very critical and the doctors are doing all they can.
He said GMCH doctors are in constant contact with experts from the Indian Institute of Medical Sciences in Delhi and his conditions are not allowed to move him out of state for medical treatment.
Family members are regularly informed of Gogoi's condition and treatment procedure.
Gogoi was released from hospital on October 25 after recovering from Covid-19 infection and other post-healing complications after more than 60 days.
He received plasma therapy and subsequently became stable.
The octogenarian chief of Congress was under the observation of the team of nine physicians at his official residence.
Gogoi had tested positive for COVID-19 on August 25 and was admitted to GMCH the next day.
.