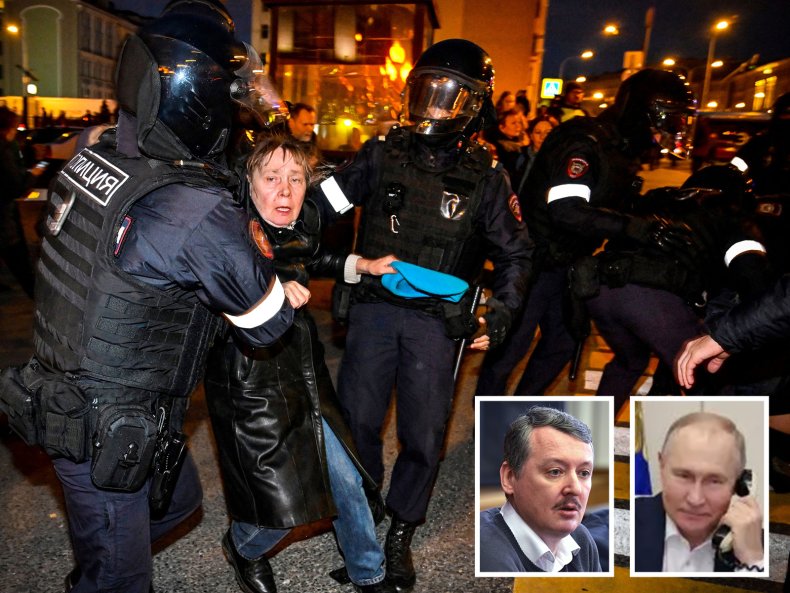 Former Russian commander Igor Ivanovich Strelkov, also known as Igor Girkin, recently warned of a "civil war" in Russia that could lead to "millions of casualties" as the country continues to fight in the ongoing war in Ukraine.
"There are all kinds of civil wars. There are civil wars that will kill our country in three days in winter. And it will be over in three days, but it will kill the country," Girkin said in a captioned clip posted on Twitter on Sunday posted by Anton Gerashchenko, adviser to the Minister of the Interior of Ukraine.
In the clip, Girkin added that Moscow "could turn into a civil war with millions of casualties, with a complete collapse and defragmentation."
Russia continues to fight in Ukraine despite scrambling to obtain military equipment, manpower shortages, poor morale among troops and what some predicted internal divisions within the military leadership.
On Saturday, Russian forces launched a rocket attack that hit a building in an apartment complex in Dnipro, killing 29 people and injuring dozens more, according to Valentyn Reznichenko, the region's governor.
Although Russian troops have made some progress in capturing the Ukrainian city of Soledar, Ukrainian army leaders are still in control of the situation in the western suburbs of the city, north of Bakhmut, Girkin said on Telegram on Wednesday.
Meanwhile, critics of Russian President Vladimir Putin have previously warned of the outbreak of civil war in Moscow.
Mark Feygin, a former State Duma deputy and human rights lawyer, said News week last October that a sweeping defeat for Putin in Ukraine could lead to a "bloody" civil war with a range of factions and regions seeking power.
"What will happen depends very much on how this war will end," Feygin said, adding that Ukraine could "crush" Putin's government without even taking back Crimea if Kiev's troops are able to completely liberate the oblasts of Kherson, Zaporizhia, Luhansk and Donetsk. .
"The easiest thing would be for the elites in Russia to make up their minds and pick a replacement for Putin, a replacement who could negotiate with the West, provide an initial framework for concluding the logistics of that war, and then could also work for future elections." Feygin said.
Last November, some leaked emails from a whistleblower at the Russian Federal Security Service (FSB) were shared with News week revealed how a possible civil war could break out between Putin's closest allies.
Dubbed the Wind of Change, the agent regularly writes messages to Russian dissident exile Vladimir Osechkin, expressing the frustration and discontent within the FSB over the ongoing war in Ukraine.
Describing the inner turmoil and conflict within Moscow, the emails predict an "inevitable" civil war, and that the country will soon "descend into the abyss of terror" as people grow increasingly weary of war.
News week contacted the Russian Foreign Ministry for comment.