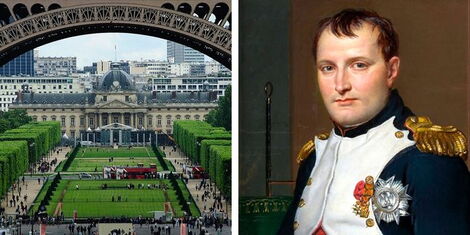 If a soldier wears his uniform, it is on indicate his willingness to carry out his duties fearlessly.
The pride of every military officer is to serve his country with distinction, honor and loyalty.
A famous quote in military circles reads "No one is a man until he has been a soldier."
That's the story of Lieutenant General Francis Omondi Ogolla who rose to the rank of Lieutenant General and used to be appointed Vice Chief of the Armed Forces on 23 July 2021.
An image of Ecole Militaire (left) and the image of Napoleon Bonaparte (right)
Twitter
Military School
Ogolla who participated the Kenya Defense Forces (KDF) attending the ÉcoleMilitaire de Paris on April 24, 1984, the same military training school as Napoleon Bonaparte a famous French emperor, mmilitary commander and political leader who rose to prominence during the French Revolution.
Napoleon Bonaparte was educated in 1784 at the academy, an academy for officers-in-training from noble families without strong financial backgrounds.
Ogolla right holds a degree in both International Studies and Military Science from Egerton University, a Bachelor of Arts in Political Science, Armed Conflict and Peace Studies (first class honors), and a Master of Arts in International Studies from the University of Nairobi.
He is both a trained fighter pilot and an instructor pilot in the United States Air Force (USAF). Besides, he is also trained in other areas, including image intelligence, counter-terrorism and accident investigation.
In 2018, he was appointed Commander of the Kenyan Air Force, a position he held for three years before rising to Vice Chief of the Armed Forces.
Ranks and positions he has held include; Training, command and personnel including Deputy Commander Kenya Air Force, Base Commander Laikipia Air Base, Commander of Tactical Fighter Wing, Chief Flying Instructor at Kenya Air Force Flying Training School and Operations Desk Officer at Kenya Air Force Headquarters.
Ogolla is well placed to be the Chief of the Armed Forces, a position that rotates between the three services (Kenya Army, Navy and Air Force).
The position has already been switched between the navy and the Kenyan army. General Kibochi, the current CDF, is from the Kenyan Army, while his predecessor, General Samson Mwathethe, was from the Kenyan Navy.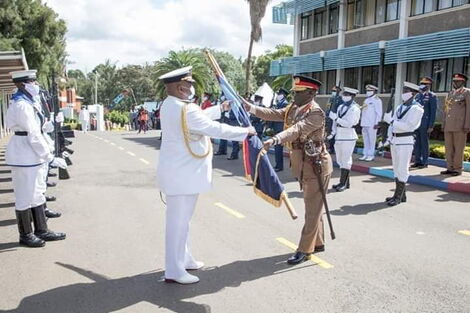 Former CDF General Samson Mwathethe (left) hands over KDF flag to CDF General Robert Kibochi at Defense Headquarters in May 2020
File
accident terrorism fight