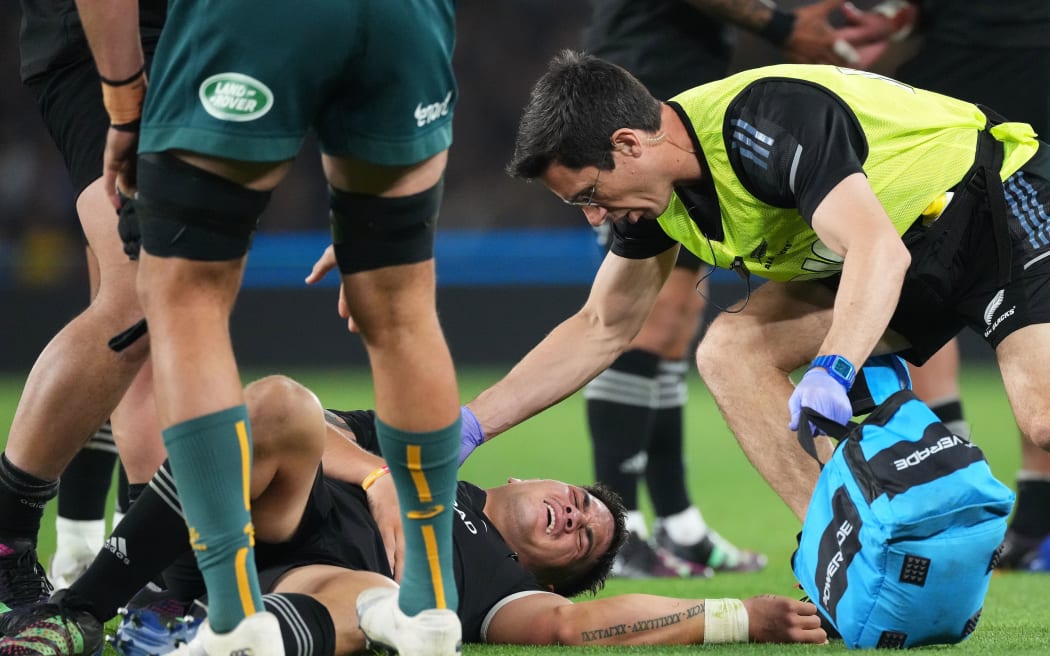 All Blacks duo Beauden Barrett and Aaron Smith have shared their thoughts on the clearing of Wallabies lock Darcy Swain, which will leave their teammate Quinn Tupaea sidelined for months.
Swain was set to appear before the Sanzaar judiciary on Monday night after being thrown out by sin and subsequently cited for the incident in New Zealand's dramatic Bledisloe Cup win in Melbourne last week.
The Australian lock plunged to Tupaea's leg during a ruck, causing the midfielder's left knee to buckle inward and tear his medial cruciate ligament.
All Blacks coach Ian Foster confirmed Tupaea would be out for at least three months.
Swain was shown a yellow card, but Sanzaar had since said that the citing commissioner believed the incident had reached the threshold of foul play for a red card.
New Zealand halfback Aaron Smith said that while injuries occurred in rugby, some could be kept under control, while Barrett was also asked if the players had any visibility into what was happening.
"Yeah, we do, I thought it … I feel for Quinn," he told media in Auckland on Monday.
"He didn't really see it coming, he was a sitting duck and it was a bit of a freestyle.
"I feel for him because he will be out of the game for a long time. I'm not too sure what's happening in their camp with Darcy Swain… we don't like to see this kind of injury."
Meanwhile, the veteran first-five was hopeful that the controversial, time-consuming call at the end of the test in Melbourne could be positive for the All Blacks going forward.
French referee Mathieu Raynal came under fire in Australia after making the decision against Wallabies first-five Bernard Foley, giving the visitors the chance to score the winning try in stoppage time.
Barrett was asked, as a player often charged with penalty kicks for touching, if it was something he would be more aware of.
"You are always aware of the referee, they are the ones in charge," he said ahead of Saturday's second Bledisloe test against Australia in Auckland.
"Yeah, you play the game a little bit, you wait for that warning when you try to finish the clock and you kick the ball out or pass it, whatever it is.
"Yes, of course, we are the ones with the ball and if the referee asks us to continue, we will."
Barrett was also optimistic that the call would be a sign of things to come from umpires.
"As a fan you don't want interruptions, you want to see free play … fitter players should be rewarded with fewer interruptions and keeping the ball in play.
"Actually a better product of rugby. That suits me and certainly suits rugby in New Zealand, so hopefully we're moving in the right direction."