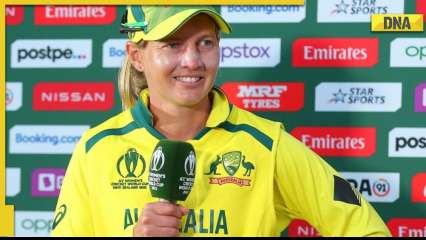 Australian captain Meg Lanning recently discussed her decision to take an indefinite hiatus from cricket, revealing that she was trying to experience a sense of normalcy by working at her local café and taking an overseas holiday. Lanning said the break was necessary to recharge and refocus, allowing her to come back to the game with a newfound appreciation and enthusiasm.
Lanning led Australia's campaign to secure the 2022 ODI World Cup and Commonwealth Games gold medal before announcing her indefinite hiatus from cricket. She was absent from England's The Hundred and Australia's Women's Big Bash League (WBBL) competitions, as well as the T20I tour of India.
The 30-year-old, who will make her international return in the white-ball series against Pakistan, said: "Initially I wasn't sure how it would turn out. I was told it would be a good idea to take a break and I just wanted to quit cricket, get away and give myself some time to think and figure out where I wanted to be.
"There were no real timelines for anything from the beginning. I came to the conclusion after a short while (that she would return) ¦ but there was a moment a few months ago where I thought, 'Oh, no, that's definitely something I want to keep doing'."
"There's still quite a bit I want to get to, so once I got to that conclusion I started working on where I could get back and what that could look like. But with the break it was definitely something I needed and it certainly refreshed me tremendously."
To regain a sense of normalcy, Lanning worked at her local cafe, serving lattes, chatting with customers, and doing the dishes. She also took the opportunity to travel around Europe and spend quality time with her friends, family and beloved golden retriever, Mabel.
"(Working in a cafe) gave me a little bit of a different perspective on things because I went in without really knowing what the day would be like. It can be busy, it can be quiet and just having different conversations with the customers and stuff like that, I actually thought that was really, really cool," Lanning said.
"There's certainly no shame in raising your hand and saying you just need a little break, and you might need some help with that. That's something I've done throughout my career and then in life in the I haven't done much overall. I've always been pretty guarded about what I've done, so that was a different experience for me and a new experience," she added.
Lanning's Australia will play three One Day Internationals (ODIs) and as many Twenty20 Internationals (T20Is) against Pakistan from January 15. After the limited-over series, Australia will shift their focus to defending their T20 World Cup crown.
READ| Rs 2400 crore: The amount Saudi Arabian club Al Hilal can pay to sign Lionel Messi, details inside