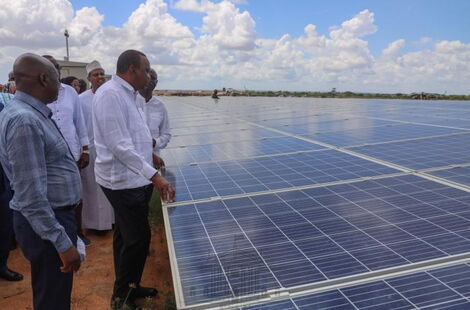 Oil companies are grappling with the government's plan to switch to clean energy by phasing out or converting fossil fuels by 2030.
Kenya is ranked 5th globally in the Bloomberg Investment Index and in 2018 the country had invested over Ksh 140 billion in clean energy sources.
Companies are turning to solar power, solar panels for industrial use and wind machines replacing geothermal engines that use gas, oil and heavy fuel oils that pollute the environment.
One of the leading companies, TotalEnergies, renamed Total Petroleum, expanding its energy market from oil and gas production to only renewable energies – wind, solar, green hydrogen and others.
President Uhuru Kenyatta launches Garissa Power Plant in Garissa County on Friday December 13, 2019
PSCU
Public energy company KenGen is also conducting a feasibility study on converting thermal power plants that provide seven percent of the electricity.
However, to the extent that the energy transition offers companies opportunities to reduce costs and develop their activities in the emerging clean energy sector market, many companies are facing a crisis due to certain blockages.
One of the obstacles to the energy transition is the lack of clear regulatory systems and policies from the government.
"While it is crucial to gradually move energy systems away from fossil fuels, a combined increased investment and deployment of renewables and reformed energy policies crucial for sector growth and economic development with the right policies are essential for achieve a low carbon future.
"A reformed policy environment that balances economic development and growth, security and access to energy and, more importantly, environmental sustainability is fundamental," said Anthony Munyasya, CEO of Galana Oil Limited.
Galana Oil is converting its systems to accommodate solar panels that are supposed to generate solar energy to run its equipment nationwide.
In November 2020, the Energy Petroleum and Regulatory Authority (EPRA) sparked outrage with its draft recommendations on installing solar energy.
The Regulation (Solar Photovoltaic Systems) Regulations 2020, proposed to charge technicians and solar contractors between 2,250 Ksh and 6,000 Ksh for obtaining and renewing licenses, between 1 million Ksh and 10 million Ksh for insurance policies and 5 000 Ksh per day to practice with expired licenses.
In light of the aforementioned proposals, Munyasya argued that the energy transition in Kenya is capital intensive and that companies operate in an environment where unstable power is likely to damage equipment due to power fluctuations.
"However, solar energy ensures business continuity and guarantees a reduction in carbon emissions. Therefore, the Kenyan government should review the regulatory frameworks on energy production and distribution, as well as provide incentives to attract more actors in green energy production, "he advised.
An undated image of a gas station in Nairobi.
To file