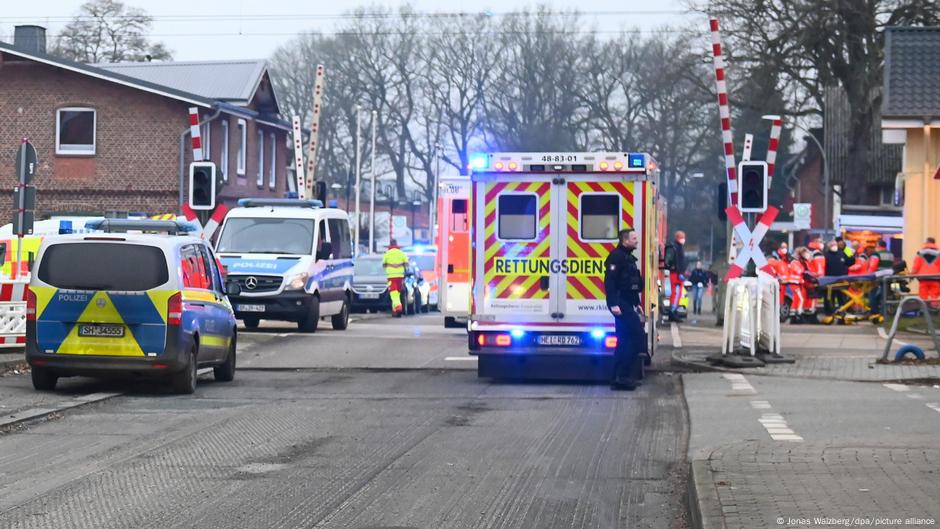 Schleswig-Holstein's interior minister, Sabine Sütterlin-Waack, told the German news agency dpa that two people had been killed and five injured in the attack.
Meanwhile, TBEN news agency quoted the federal police (de Bundespolizei), responsible for safety on the road and rail network, reportedly causing two deaths. The police spokesman also said that several people were injured.
Sütterlin-Waack and de Bundespolizei both said a suspect had been apprehended. According to police, a man attacked other travelers on board with a knife. The crime occurred shortly before 3 p.m. local time (1400 UTC/GMT).
What else do we know so far?
Police said the attack occurred as the train approached Brokstedt station, a small community of about 2,000 people north of Hamburg and south of Kiel. A suspect was arrested when the train reached Brokstedt station. Several passengers had called the emergency services from the train.
The station was closed to allow emergency services to continue their work on site.
According to police, further details remained elusive for about two hours after the attack. Neither the suspected motives or reasons for the attacker's actions nor the condition of the injured were completely clear.
Police later added that the suspect was believed to be a young man, likely between the ages of 20 and 30, and based on preliminary checks, was not on an extremist watch list.
The dpa news agency also reported, but this time not citing security sources who spoke off the record, that the man showed signs of a psychiatric illness.
The region's interior minister, Süttlerin-Waack of the Christian Democrats, was informed of the crime in the state parliament. She first consulted with State Prime Minister Daniel Günther. By early evening she had arrived in Brokstedt.
msh/nm (TBEN, dpa)