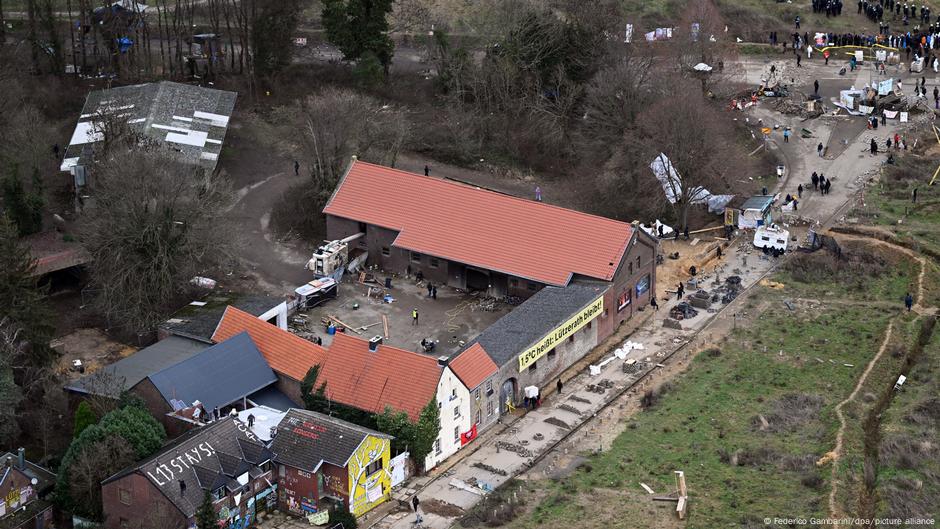 Police on Tuesday began tearing down barricades and forcibly removing climate activists holding a sit-in protest against a coal mine expansion, highlighting tensions over German environmental policies amid an energy crisis.
Several hundred climate activists tried to prevent heavy machinery from reaching the abandoned village of Lützerath in North Rhine-Westphalia by erecting barricades and digging trenches to stop the police.
Activists have occupied the remaining buildings in the village west of Cologne and near the Dutch border on the front of the open-cast lignite mine — long slated for demolition and cleared of residents — for nearly two years.
Police on Tuesday appealed to activists on the ground to voluntarily leave, saying their full cleanup operation would likely begin on Wednesday. Officially, protests on the site are no longer allowed from Tuesday. A last-ditch effort by activists to get a longer permit to stay with a court order failed Monday.
Violent altercations between protesters and police and scenes of verbal abuse have become increasingly common in recent days as the cleanup TBEN approaches. Police and protesters have exchanged accusations of disproportionate behavior and use of force.
Tensions over Berlin's climate policy
Environmental groups have criticized the new German government since Olaf Scholz (SPD) became chancellor in December 2021, when the Green Party also became a prominent partner in the coalition that helped the former finance minister form a government.
The government has so far made only minor changes to long-standing energy policy, for example expressing a desire to bring forward the existing German TBEN to stop using coal from 2038, but keep that date as the latest possible exit.
Meanwhile, the Russian invasion of Ukraine and the subsequent impact on Russian gas and oil supplies and prices forced the German government to issue contingency plans to secure energy supplies, even with a short extension of the operating times of the country's few remaining nuclear power plants. country, whose final shutdown was planned for the end of 2022.
The Greens included almost all ministerial positions directly related to these issues in coalition negotiations, such as energy, economy and environment.
Greens co-leader and deputy chancellor Robert Habeck is the top politician responsible for – and the man therefore often tasked with defending – policies that would have been anathema to his party and its base for decades.
Environmentalists claim that the party sacrificed its principles when it entered government, as did the left-wing opposition party.
The head of the left, Janine Wissler, has dismissed plans to mine the village as "madness" and a "frontal attack on climate protection". Wissler, who visited the site on Tuesday, called out Habeck for his role in the dispute, accusing the Green Party of betraying its climate agenda over RWE's interests.
A member of the Bundestag from the Green Party, Kathrin Henneberger, was also on the scene in Lützerath as a parliamentary observer and regularly posted updates on the police operation and the mine. She said she saw arrests early Tuesday, including one "for no good reason from my perspective."
"Here we see how protesters and police stand against each other," Henneberger said in a video she posted online. "Today is going to be a very uncomfortable day."
Lützerath was a small village, where about 100 people once lived.
jsi/msh (dpa, Reuters, TBEN, epd, KNA, TBEN)