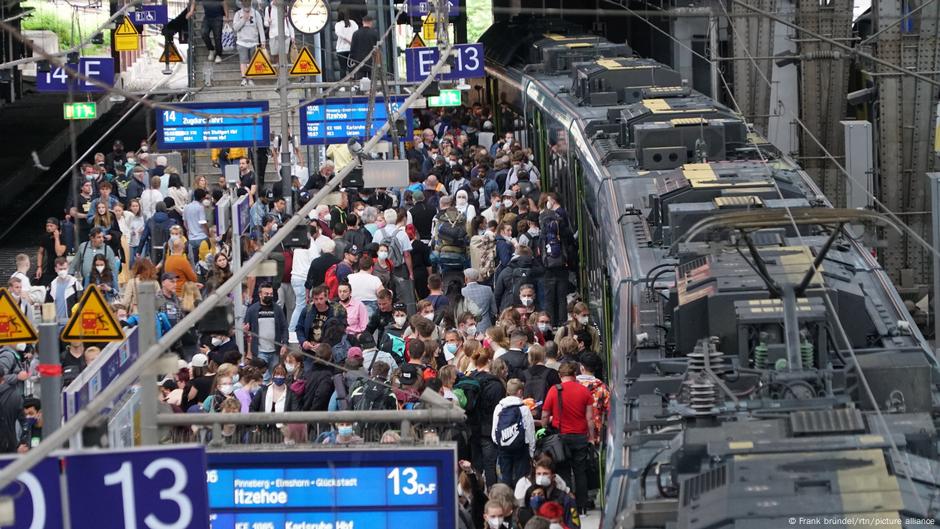 German transport ministers from the various states and the federal government in Berlin held a special session on Monday to discuss increased government funding for local public transport and a possible long-term successor to this summer's so-called €9 ticket.
From June to August, people in Germany could buy one ticket for €9 (about $9) that was valid for a month on local trains and buses across the country. Long-distance high-speed trains were not included.
The scheme was very popular, but was also only made possible thanks to taxpayers' money.
After the positive public reception, Federal Transport Minister Volker Wissing and his colleagues from each of Germany's 16 federal states are investigating a similar offer that may be sustainable over a longer period of time.
They were also expected to discuss additional funding for local downtown public transportation as existing systems struggle to contain rising energy and fuel costs.
Ballpark goal of €49 to €69 per month? Who will pay?
Shortly before the meeting, Wissing expressed optimism that a deal could be reached with his state colleagues.
The Free Democrat politician (FDP) said he was "glad that we can and will find a successor to the [9€] ticket."
Bremen's Maike Schaefer, chairman of the group of transport ministers, said early in Monday's talks that every state was willing to contribute money to such a nationwide scheme. She said the next step would be to set up a rapid consultation working group.
Wissing, meanwhile, welcomed the states' readiness in theory and said he hoped the outlines for a settlement could be ready in time for face-to-face talks with the transport minister next month, on October 12 and 13.
The government in Berlin said ahead of the talks it was willing to provide €1.5 billion a year to enable a nationwide public transport ticket, provided the states could combine to match this contribution. It says it's targeting a fixed price somewhere in the region of $49 to $69.
Launch target: January 2023; other financing in question
As is quite often the case in the German federal system, the debate over who can pay for what can be tricky. States with less developed public transport infrastructure also like to emphasize that cheaper travel or a single convenient ticket is only part of the battle.
"What good is a cheap bus that ends up not running?" Saarland State Prime Minister Anke Rehlinger asked on Deutschlandfunk public radio on Monday. "We have to think bigger."
Rehlinger said she expected Wissing to discuss not only an overall pricing model, but more help for states' local transportation networks.
"What this is most urgently about at the moment is dealing with exploding energy costs and making our local public transport networks financially watertight," Guido Beerman, the transport minister of Brandenburg, an eastern state that is less wealthy than the average in Brandenburg. Germany, at the dpa news desk.
Beerman said the approximately $10.5 billion the federal government paid states this year to support local public transportation could prove insufficient amid rising fuel and energy costs and the desire to expand local services. expand. He said that maintaining local networks alone would require an additional $1.65 billion and an additional $1.5 billion to expand them.
"The discussions about ticket prices must be included in this [issue]' said Beerman, a member of the Christian Democrats who are in opposition at the national level [federal coalition government] trying to put the cart before the horse here. It will not work."
Lower Saxony's state prime minister, Stephan Weil, said he was optimistic states would agree to match the federal contribution to such a scheme. He said he believed states like to "co-finance" but not "overpay." He said he preferred not to speculate on a possible price to consumers, saying it would be the result of "difficult negotiations between the federal and state governments".
msh/aw (TBEN, dpa, Reuters)
While you're here: Every Tuesday, TBEN editors round up what's happening in German politics and society. You can sign up for the weekly Berlin Briefing email newsletter here.