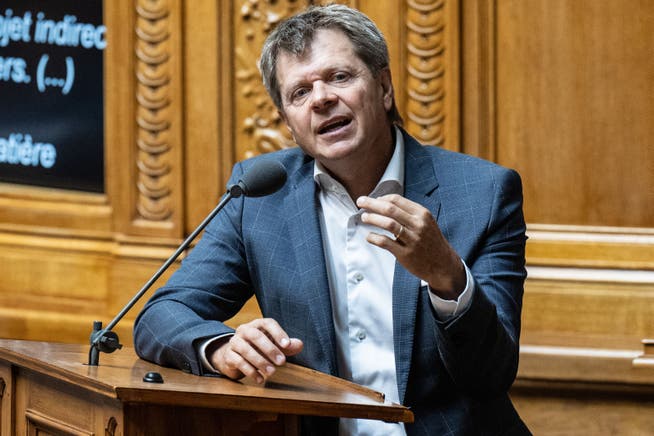 Choose

GLP President Jürg Grossen wants to be in the Council of States – and is eyeing the Federal Council seat for his party
From the National Council to the Council of States: Jürg Grossen, President of the Green Liberals (GLP), would like to be elected to the small chamber in the canton of Bern in the autumn. And he explains when his party claims a seat in the Federal Council.
At the moment, the two seats in the Council of States are firmly in the hands of the SVP and SP. However, the Social Democrat Hans Stöckli will no longer stand in the national elections in autumn. Jürg Grossen is now available as a possible successor: the GLP of the Canton of Bern would like to move into the Council of States with him for the first time. The party announced on Friday. The management unanimously nominated Grossen for the attention of the general meeting. This will take place on February 2nd.
Grossen, who unsuccessfully ran for the Council of States in 2015, is an experienced member of the National Council with a broad network in Berne. As an entrepreneur and energy politician, he can make important contributions to the great challenges of our time. The 53-year-old has been a member of the National Council since 2011. He has also been President of GLP Switzerland since 2017. He succeeded founding President Martin Bäumle in office.
"Lack of entrepreneurial spirit" in Parliament and the Federal Council
The National Council itself spoke in an interview with the Tamedia newspapers about its candidacy. The top favorites for the election are others. "But the role as a challenger appeals to me," said Grossen. «In my eleven years as a member of the National Council, I have always been an entrepreneur and know what concerns the economy. The canton of Bern needs someone like that in the Council of States, where there are already too few entrepreneurs."
His party has ambitious plans for the autumn elections: The GLP would like to break the 10 percent hurdle in the coming October elections and take a seat in the Council of States again. "If we achieve these two ambitious goals, we will claim a seat in the Federal Council because we are convinced that if something needs to be changed, it is the state government," said Grossen. As it is now, it doesn't work. "Overall, there is a lack of leadership and entrepreneurial spirit – also in Parliament, by the way."
In addition to the big ones, other candidates have already announced their ambitions for a seat in the Bern Council of States – including SP National Councilor Flavia Wasserfallen or FDP Councilor Sandra Hess. (abi)