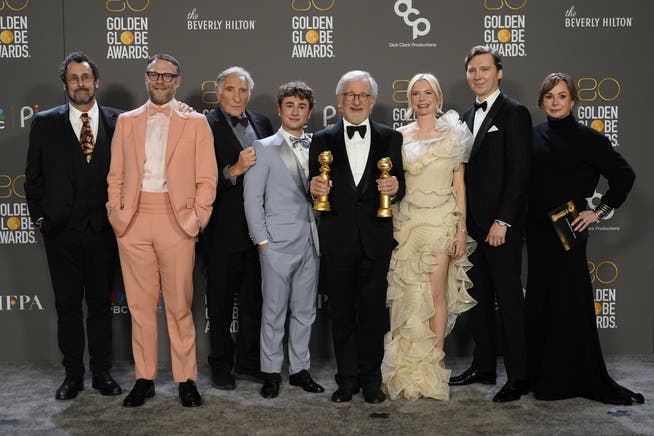 Golden Globe Awards

"The Fabelmans" wins Top Globe for best film drama
The Golden Globes are considered a harbinger of the Oscars in Hollywood. Winners of the 80th Awards include The Fabelmans and The Banshees of Inisherin.
Steven Spielberg's The Fabelmans won the Golden Globe for Best Drama. He prevailed at the trophy gala on Wednesday night against James Cameron's "Avatar: The Way of Water", "Elvis", "Tár" and "Top Gun: Maverick". The 76-year-old Spielberg also won the Directing Globe for his autobiographical film about his childhood and youth.
Three Golden Globes went to the tragic comedy "The Banshees of Inisherin" about a broken male friendship in Ireland in the 1920s. The film won the Comedy/Musical category, Colin Farrell took the Comedy Leading Actor award and director/writer Martin McDonagh accepted the Best Screenplay trophy. Michelle Yeoh won the award for Lead Actress in the sci-fi comedy Everything Everywhere All at Once.
In the drama category, Cate Blanchett ("Tár") won best actress against Ana de Armas ("Blonde") and Michelle Williams ("The Fabelmans"), among others. Austin Butler won Best Drama Lead for his role as Elvis in Baz Luhrmann's biopic.
The German anti-war film got nothing
The German anti-war film "Nothing New in the West" by director Edward Berger went empty-handed. "Argentina, 1985" won the prize in the "Best Non-English Language Film" category for Argentina. "Nothing new in the West" is also Germany's Oscar candidate.
Winners in 27 film and television categories were announced by the Foreign Press Association (HFPA) in Beverly Hills. Many stars had gathered in the ballroom of the Beverly Hilton Hotel. The 80th Globe award was broadcast live by US broadcaster NBC.
In January 2022, NBC canceled traditional TV broadcasts. Nominees stayed away from the event, and the names of the winners were only announced via the HFPA association's social media accounts. The reason for this was, among other things, massive criticism of the association for a lack of diversity. As part of a restructuring, the pool of Globe jurors has now become larger and more diverse. (dpa)