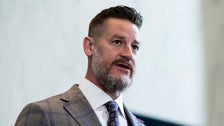 "Congressman Steube was involved in an accident on his property late afternoon and suffered several injuries," the tweet read. "We will provide additional updates where possible. Please pray for the Congressman and his family."
A Steube spokesperson did not immediately respond to a request for comment.
The legislature represents Florida's 17th congressional district, in south central Florida, as of 2019. He previously served in the Florida House and Florida Senate between 2010 and 2018. He served four years in the United States Army from 2004 to 2008.
The 44-year-old was one of 147 Republicans in Congress who voted to overturn the 2020 election results following the January 6, 2021 riot at the U.S. Capitol. Last year, he made headlines after brandishing three guns at a virtual gun violence hearing.
This is an evolving story. Check back later for updates.