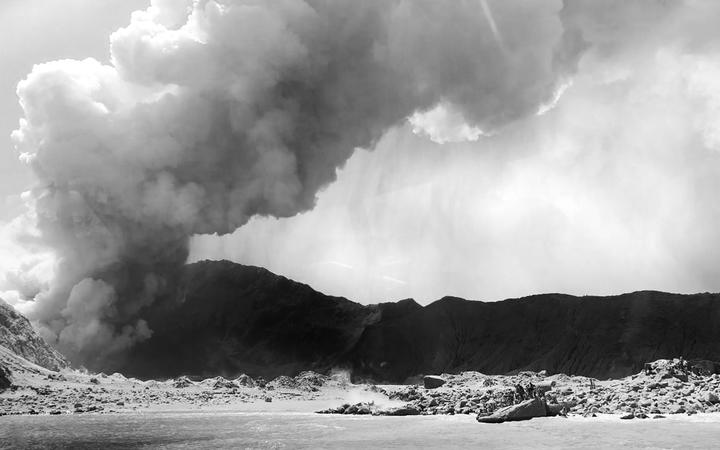 The government wants to introduce stricter safety rules for operators of adventure activities, in response to the deadly eruption of 2019 Whakaari / White Island.
There were 47 people on the island – mostly tourists – when it erupted. Twenty-two people were killed and many more were seriously injured.
This has prompted a review of the regulations on adventure activities and Minister of Workplace Relations and Workplace Safety Michael Wood today unveiled a set of proposals to strengthen them.
Currently, the regulatory regime does not explicitly address risks associated with natural hazards such as rockfall, power surges, floods, eruptions and avalanches.
This means that there is not enough assurance that all operators are managing these risks well, according to the proposal document from the Ministry of Enterprise, Innovation and Employment (MBIE).
"There is a high rate of damage in adventure activities due to natural events, and that rate does not appear to decrease over time," he said.
"On average, six people die in adventure activities per year, four of them are caused by natural disasters."
Catastrophic events related to natural hazards – with more than five deaths – occur at least every 10 years in the industry, MBIE said.
At present, neither the Adventure Activities Regulations nor the Safety Auditing Standard specifically require operators to have clear, pre-defined policies and processes in place for when activities will be canceled in effect. because of too risky conditions.
This means that it is up to each operator to determine which systems are appropriate for their particular situation, MBIE said.
To address this, the government wants to introduce explicit requirements to ensure that operators do everything reasonably practicable to assess and manage the risks of natural disasters that may affect their operations. In addition, he wants to ensure that operators have clear policies and processes in place to take into account when risks may be unacceptable and cancel operations.
Stricter rules for landowners
There will also be stricter rules for landowners that allow access to operators of adventure activities.
"In some cases, landowners will be in a better position than operators to know and obtain information about certain risks – for example, if there is a portion of the land that often has landslides or is prone to flooding," MBIE said.
"We have heard some land owners and managers take a hands-off approach to natural risk management and view risk management as largely the responsibility of operators.
According to the proposals, landowners should be involved in managing natural hazards, providing information to operators, or assessing and managing risks.
In many cases, MBIE said the owners or managers of the land would be the Department of Conservation or local councils.
However, it would also cover private land owners who allow adventure operators to use their land.
The government also wants to put in place a risk classification system, which would define the frequency with which operators should be audited.
In addition, he wants to improve risk disclosure to participants, with detailed requirements on how and when risk disclosures should be made and what they should include.
"We heard that participants do not always feel that the information provided to them by operators allows them to fully understand the risks associated with adventure activities," said MBIE.
The role of WorkSafe
Changes to strengthen the role of WorkSafe are also proposed.
WorkSafe is suing 13 people and organizations for alleged health and safety violations in the run-up to the Whakaari eruption.
Those charged were: Island owner Whakaari Management Limited and its directors Andrew, James and Peter Buttle; GNS Sciences; the National Emergency Management Agency; White Island Tours Limited; Volcanic Air Safaris Limited; Aerius Limited; Kahu NZ Limited; Inflite Charters Limited; ID Tours New Zealand Limited; and Tauranga Tourism Services Limited.
The charges do not relate to the events on the day of the eruption or the rescue efforts.
All 13 parties have pleaded not guilty.
A separate independent review of WorkSafe's management of Whakaari prior to the eruption is several months overdue.
.