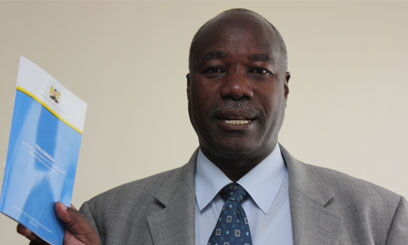 Skip to main content
The governor of Nyamira, Amos Nyaribo (right), during his swearing-in on Tuesday, December 29, 2020.
Nyamira Governor Amos Nyaribo suffered a setback after the Kisumu High Court prevented him from passing on the name of former West Mugirango MP James Gesami to be appointed deputy governor.

The petition was filed by a local resident, Vincent Omao, who was against Gesami's appointment.

In a court notice dated Wednesday, January 13, Judge Maureen Onyango also barred the Nyamira County Assembly from receiving, verifying or approving the name of the former deputy minister as deputy governor.

James Gesami, former MP for West Mugirango

File

The new governor had appointed Gesami as his deputy on Wednesday, January 6, and also submitted 10 candidates for consideration and approval for the post of county executive committee members in the respective departments.

Nyaribo took office as the second governor of Nyamira County after succeeding the late John Nyagarama who succumbed to Covid-19 on December 18, 2020.

In his first act as governor, Nyaribo marked his authority by dismissing all CECs and ordered them to hand over their duties and responsibilities to the county secretary.

During his inaugural address, he promised to break the whip on public officials who abuse public funds.

"We have lost public money by paying for incomplete and phantom development projects. Corruption concerns us all. Let us not be silenced but (report) to the responsible agencies.

"I call on all leaders to work together and to respect each other so that we can develop our county. We have been given the mandate to serve our people through the provision of services, "Nyaribo said.
TBEN.co.ke © 2021 All rights reserved