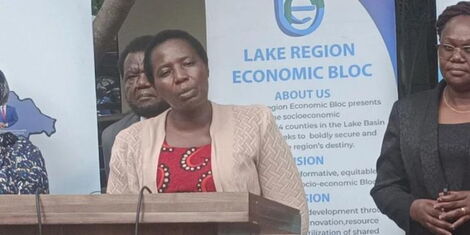 Spouses of governors from the 14 counties that make up the Lake Region Economic Bloc (LREB) sought recognition for their offices and a budget to fund their projects.
Speaking at a press conference at their first inaugural meeting in Kisumu on Thursday, Nov. 17, Nyamira Governor Amos Nyaribo's wife, Emily Nyaribo, claimed that their ventures were hampered by financial constraints.
"We don't have enough financial resources to provide for our people, but the community sees us as people equal to the governor," lamented the president of the First Spouses of Governors.
Recognition under the constitution, they declared, would legally oblige them to meet the needs of society and carry out parallel social projects.
Nyamira Governor Amos Nyaribo's wife, Emily Nyaribo, addresses a press conference in Kisumu on Thursday, Nov. 17.
citizen digital
"We are a non-political outfit that is not funded by the provincial governments. We must be enshrined in the Constitution as first spouses to meet the expectations of our people," she explained.
The spouses stated that they deal with cases of early childhood education, gender issues and supporting the vulnerable in their society, among other things.
"We have a lot on our plate, and as women we are able to see society's problems and react immediately," she supported.
They claimed that members of the communities they serve regularly approach them with numerous issues that they cannot ignore.
The deputy chair of the caucus Agnes Ochilo, the first lady of Migori County, stated that their meeting will effectively address issues affecting women, children and the underprivileged in society.
"We will guide our children from childhood and collect other blocks to join and defend this course," Ochilo stressed.
Their women-only association hopes to expand to accommodate their male counterparts.
At its inception, the caucus was known as 'First Ladies Association', but with the election of Governor Gladys Wanga as Governor of Homa Bay, the women reverted to the name to include Wanga's husband, hence the name 'First Husbands of the Governors '.
Homa Bay Governor-elect Gladys Wanga receives his certificate after winning the Homa Bay gubernatorial election on August 12, 2022
Twitter