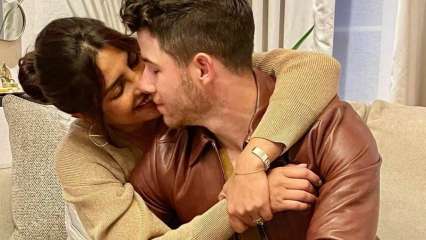 Amid divorce rumors, Nick Jonas posted a cozy photo with his wife Priyanka Chopra on Instagram with a heart emoji. Earlier, Priyanka had deleted the last name "Jonas" from her social media accounts, after which people thought they would divorce.
Nick Jonas shared a photo with Priyanka Chopra on Thursday, with the caption: "Happy Thanksgiving everyone! Thanks to you @priyankachopra. In no time, the photo went viral and people started commenting on it. One of the social media users wrote: "Happy thanksgiving to the two most loving couples. Bless you both. While another mentioned:" So beautiful photo, you both love it a lot. love."
Looked:
Priyanka had also posted a video giving a preview of "Jonas Brothers Family Roast". She shared the video and wrote, "I brought my husband and his brothers a nice roast for dinner The perks of being a Jonah." In the video, she was heard say: "Hello everyone, I am honored and so thrilled in fact and tickled to be here tonight to roast my husband, Nick Jonas, and his brothers, whom I never remember. names. I'm from India, a country rich in culture, music, entertainment, so clearly the Jonas Brothers didn't get there.
She added, "Nick and I have a 10-year age gap. Yes. And there are a lot of references to '90s pop culture. He doesn't understand. And I have to explain to him. Which is good, because we learn from each other. We learn things. He showed me how to use TikTok, for example, and I showed him what a successful acting career looked like.
However, it's still unclear why the international star deleted "Jonas" from her social media accounts.
.