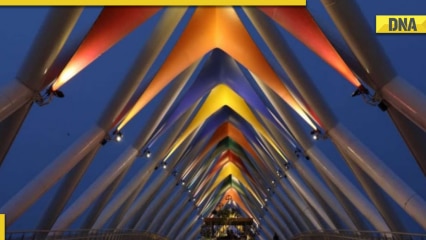 Noida Parthala Viaduct: Most of the Heavy Work Completed (Representative)
Parthala Flyover in Greater Noida has been under construction for over a year. Those coming to Greater Noida from Sector 52, Sector 62 and Faridabad via Faridabad-Noida-Ghaziabad Expressway get stuck in traffic jams at the Parthala Chowk. The distance that would otherwise have taken only 5 minutes takes more than 30 minutes. Good news for those daily commuters: the viaduct is expected to be launched in the coming months.
Parthala Chowk has become a major bottleneck. People from Greater Noida, Ghaziabad are forced to leave from there. The traffic jams are because of the construction work. The Noida traffic police closes the Parthala chowk in the evening during rush hour and forces traffic to make a U-turn from a kilometer away. During peak hours, it takes passengers more than an hour to make that U-turn. The people of the associations near Hanuman Temple in Greater Noida West, Crossings Republik, Gaur City 1 and 2 use these roads to go to office on a daily basis.
After the overpass is built, it will ease traffic for all thousands of people.
According to reports, the viaduct is nearly 80 percent complete. Commuters can now see yellow suspension cables as the flyover is built to align with Delhi's Signature Bridge. A good structure also appears on the construction site. The bridge is 600 meters long and will relieve traffic at the Parthala gol chakkar. There will be two carriageways with two six-lane parallel roads. It will handle traffic between Noida and Greater Noida.
Most of the heavy work has been completed and the overpass will likely be operational by April, reports citing officials said.
This viaduct will have 28 suspension cables.