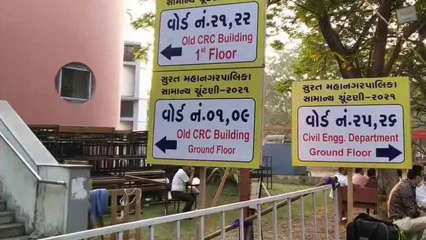 The result of Gujarat civic polls continues to be counted in 576 seats for the six metropolitan municipalities of Gujarat and the Bharatiya Janata Party (BJP) is at the forefront of trends. Votes were cast on Sunday February 21 in the six metropolitan municipalities of Ahmedabad, Surat, Rajkot, Vadodara, Jamnagar and Bhavnagar and 48.15% of voters exercised their right to vote.
The counting of votes for six municipal corporations in Gujarat began at 9 a.m. on Tuesday and is currently underway. According to the latest trends, the Bharatiya Janata Party (BJP) leads with over 200 seats until noon while Congress leads with 42 seats.
The BJP runs the neighborhoods of Jamjodhpur, Thaltej, Vastrapur, Asarwa, Saijpur, Nava Vadaj and Navrangpura in local polls. On the other hand, Congress is leading in the districts of Dariapur and Chandkheda, while the All India Majlis-e-Ittehadul Muslimeen (AIMIM) is leading in the district of Behrampura.
The six civic organs – Ahmedabad, Surat, Rajkot, Vadodara, Bhavnagar and Jamnagar – were headed by the BJP.
Voting in local Gujarat polls took place on Sunday. The State Election Commission (SEC) said an average turnout of 46.08% was recorded in the vote, which was held between 7 a.m. and 6 p.m.
Ahmedabad recorded the lowest turnout of 42.51%, while Jamnagar recorded the highest turnout of 53.38%, followed by 50.72% in Rajkot, 49.46% in Bhavnagar, 47.84% in Vadodara and 47.14% in Surat. Out of a total of 1.14 crore of registered voters in these major cities of Gujarat, 52.83 lakh voted, the SEC said in a statement.
It can be noted that let's say that in total 2,275 candidates are in the running in the six metropolitan councils, whose fate will be decided today. Of these, 577 are from the BJP, 566 from the main opposition Congress, 91 from the Nationalist Congress Party, 470 from the Aam Aadmi Party, 353 from other parties and 228 are independents. Many municipalities, zilla panchayats and taluka panchayats in the state will vote on February 28 and the count will take place on March 2.
.