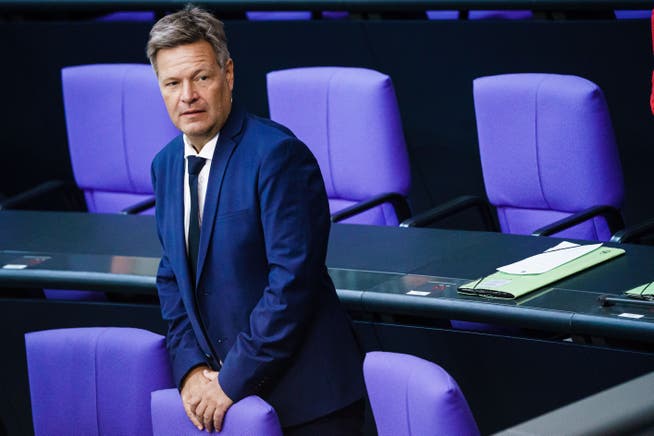 Germany

Anyone who goes bankrupt is not insolvent – ​​Economics Minister Robert Habeck starts pondering the basics of economics
"Then the companies are not insolvent, automatically, but they may stop selling" – Economics Minister Robert Habeck makes an unfortunate appearance on ARD. Either way, the Vice Chancellor is under pressure like never before.
Malice and nasty comments were not long in coming after Habeck's appearance on the ARD talk show "Maischberger" on Tuesday evening. "Doesn't our Economics Minister know what bankruptcy is?" asks the "Bild". And on Twitter there are comments like this:
"Incomprehensible! He just has no idea what he's talking about."
The 53-year-old's appearance at Sandra Maischberger was actually unfortunate. In a direct interview with the moderator, the Economics Minister got tangled up in front of an audience of millions on the TV screens.
It was about the rising electricity prices and the problems that will arise for German medium-sized companies. "Do you expect a wave of bankruptcies at the end of this winter?" asked the moderator. He doesn't do that, replied Habeck. "I can imagine that certain industries will simply stop producing for a while. Don't go bankrupt, but ..", said Habeck, digressing and prophesying that small businesses such as bakeries or flower shops could run into problems, "because there is a reluctance to buy." Then Habeck said a sentence that hardly anyone understood:
"Then the companies are not automatically insolvent, but they may stop selling."
Those who cannot sell their products must, for better or for worse, file for bankruptcy after two months, said Maischberger. "You would then become insolvent if you made a bigger and bigger minus with your work," Habeck replied, to which the moderator replied, irritated: "But how can you not make a bigger minus if you have to pay people but aren't selling anything anymore? I did not understand you."
Habeck tried to take the focus off the bankruptcy debate and spoke of the danger that some companies would have to "stop economic activity" this year. Almost a little annoyed, the presenter probed: "So they are broke because they can no longer work, but do not file for bankruptcy. So I think the point needs to be reconsidered." Maischberge's final vote sounded as if an economics professor were reprimanding her ill-prepared student:
"I have the feeling that you haven't found the right answer yet."
Habeck's start to the week finally failed. On Monday he presented a proposal for the future of the three remaining nuclear power plants. Since then, Habeck's idea of ​​emergency operation for nuclear power plants has been heavily criticized by experts, and it even has what it takes to seriously endanger the unequal traffic light coalition of SPD, Greens and FDP.
In principle, Habeck wants to stick to the nuclear phase-out at the end of 2022. But by the end of the year, only one of the three remaining nuclear power plants will actually go off the grid – two nuclear power plants operated in southern Germany are to be kept in good condition by April 2023 so that they can go back on the grid as a reserve in an emergency.
The Munich economic researcher Clemens Fuest, for example, points out: "We have a common electricity market, and there is not only a national, but also an urgent pan-European interest in using all available capacities."
There is also resistance to the Vice Chancellor's plans in the coalition. FDP boss and Finance Minister Christian Lindner has made it clear that he is in favor of extending the lifetime of the nuclear power plants. Opposition leader Friedrich Merz accuses the Greens of pursuing policies solely for their own constituency instead of assuming responsibility for the entire country. Germany is heading for a massive energy supply crisis, "exacerbated by completely absurd decisions by this federal government." The CDU leader is calling on Chancellor Olaf Scholz (SPD) to thwart his Vice Chancellor's plans and extend the nuclear power plant's service life:
"As the leader of the opposition, I can only appeal to the Chancellor to end this madness."