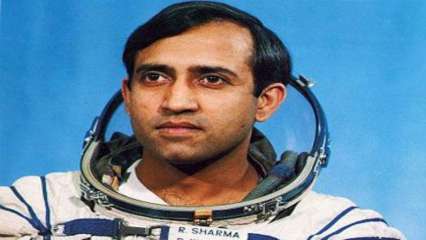 Indian space hero, Wing Commander Rakesh Sharma, turns 71 today.
Wing Commander Rakesh Sharma is part of Indian space folklore after he became the first Indian to orbit in space in April 1984 aboard Russia's Soyuz T-11. He spent 7 days, 21 hours and 40 minutes in space with two Soviet astronauts, Yury Malyshev and Gennadi Strekalov.
Born January 13, 1949 in Patiala, Rakesh Sharma, before becoming a cosmonaut, worked as an air force pilot in the Indian armed forces.
Sharma immortalized 'Saare Jahan Se Acha, Hindustan Hamara' when he told then Prime Minister Indira Gandhi that this is what India looked like from above.
"What India looks like from space," the Prime Minister of India asked Rakesh Sharma. "I can say without any hesitation" Saare Jahan se acha "(best in the world)."
Here are some interesting and lesser-known facts about the Indian who took the nation's name higher than ever before:
1. In January 1982, when it was decided that an Indian would go into space aboard a Soviet spacecraft, Squadron Leader Rakesh Sharma volunteered for this very difficult mission.
After a very rigorous selection process, which included a most demanding medical test, he was selected as one of two cosmonaut candidates among 150 highly qualified and experienced pilots of the Indian Air Force.
2. After his selection, he underwent cosmonaut training at the Yuri Gagarin Center in the USSR, where he applied himself with full dedication and dedication and was acclaimed by Soviet space experts.
3. On April 3, 1984, Sqn Ldr Rakesh Sharma became the first Indian to orbit in space. He carried out all the scientific experiments planned for the joint Indo-Soviet space mission and other assigned tasks with great ease and excellence.
4. Rakesh Sharma transported Indian food to space with the help of the Defense Food Research Lab located in Mysore. They had packed suji halwa, aloo chole and veg pulao that Sharma was sharing with other astronauts.
5. He photographed India from space and the photos he took saved India from two years of aerial photography to map the same region.
6. Sharma carried with him portraits of then Prime Minister Indira Gandhi, President Zail Singh, Minister of Defense, Venkataraman and the soil of Rajghat, the samadhi of Mahatma Gandhi.
seven. In addition to being the first Indian to stay in space, Rakesh Sharma is also the first Indian to receive the "Hero of the Soviet Union" award. He also received Ashok Chakra with his Russian co-astronauts Yuri Malyshev and Genadi Strekalov.
8. The Indian government awarded him the highest bravery award – the Ashoka Chakra.
9. Sharma retired from the Indian Air Force as a Wing Commander.
Rakesh Sharma not only carved a place for himself in the space honor roll, but brought glory and credit to the nation.
.