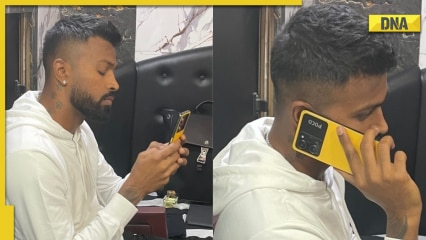 Hardik Pandya with mysterious yellow phone.
Hardik Pandya, the captain of the Indian T20 cricket team, is currently one of the most popular cricket players in the world. The current IPL winning captain has fans all over the world and everything he does instantly goes viral on the internet due to the long list of fans. The top cricketer has over 24 million followers on Instagram and his fan list is growing with his back-to-back appearances in series against Sri Lanka and New Zealand. Hardik Pandya, who is currently preparing for the 2023 ICC World Cup, was recently spotted with a mysterious yellow colored smartphone in his hand. The image of Hardik Pandya with the phone left his fans and tech enthusiasts confused. Shortly after the image went viral, Hardik's fans started guessing the model of the smartphone he is holding in the image. While a few began to focus on the camera module, the others noticed the back panel. To know which smartphone Hardik Pandya is holding, read on.
If you are a smartphone geek, it is quite easy to identify that the smartphone is Poco branded. All of the brand's recent smartphones have large rectangular camera modules on the back similar to those on Hardik Pandya's phone. According to the reports, the phone seen in Hardik Pandya's hand is the Poco X5 Pro which has not yet launched in India. Hardik Panya is arguably the brand ambassador of this phone and it is not difficult for him to get his hands on some unreleased products. Few fans also suspect that this could be a marketing stunt. The Poco X5 Pro is already available in China and is expected to make its debut in India soon.
So far, the company has not released any official information about the smartphone, but if the rumors are true, we could get our hands on the mysterious device in the coming months.