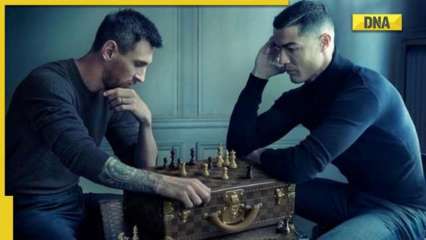 An iconic image of Lionel Messi and Cristiano Ronaldo playing chess took social media by storm on the eve of the World Cup on Saturday night – but the picture may not be all that it seems.
READ: VAR controversy reaches FIFA WC in 160 seconds: why Ecuador's first goal against Qatar was denied
The photo was taken by American portrait photographer Annie Leibovitz for a Louis Vuitton advertisement, but behind-the-scenes footage appears to show that Messi and Ronaldo were not in the same room together for the shoot.
A video posted by Louis Vuitton on their social channels, but later removed, shows Leibovitz shooting both Messi and Ronaldo separately.
Behind the scenes of @LouisVuitton's photo shoot @annieleibovitz with Lionel Messi and Cristiano Ronaldo pic.twitter.com/qz2eFMVdgr— Luis Miguel Echegaray (@lmechegaray) November 20, 2022
At no point are the greats together in the same thing, meaning Photoshop or an alternative program was likely used to complete the iconic image – unless Louis Vuitton plans another big reveal later in the tournament.
In the video, Messi and Ronaldo talk about their proudest moments as international footballers ahead of what will be a fifth World Cup for both players.
"The most memorable victory for me was winning the recognition of the Argentine people," says Messi.
READ: 'Remember me in your prayers': Shaheen Afridi's emotional post after appendectomy surgery goes viral
And Ronaldo adds: "Then I won the first title for [the] Portuguese national team."
The photo is on track to become the most liked image of all time on Instagram, and Ronaldo's post has already received more than 30 million likes.