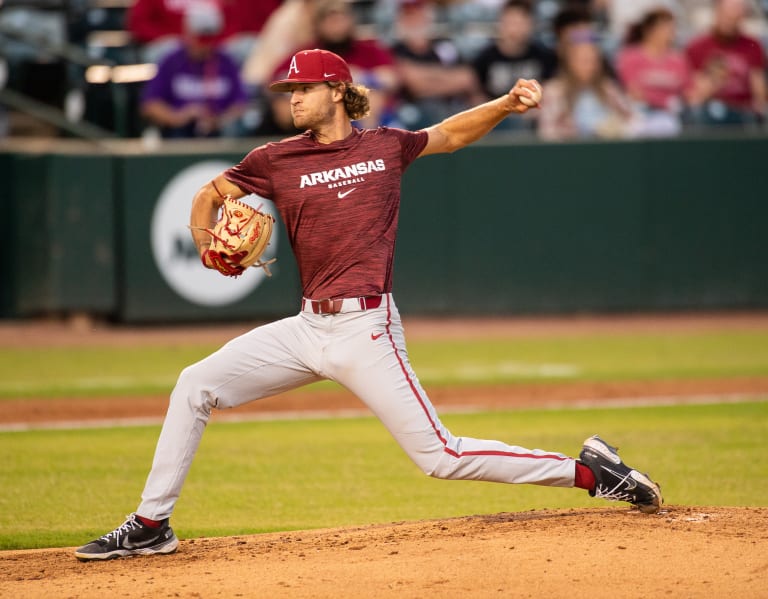 NO SUBSCRIBER? SIGN UP TODAY TO ACCESS ALL OF HAWGBEAT'S PREMIUM CONTENT AND FEATURES
FAYETTEVILLE, Ark. – The 2022 MLB draft heralded the exit of nine Razorbacks from Fayetteville, leaving head coach Dave Van Horn and company with many gaps to fill in 2023.
Fortunately for Head Hog and pitching coach Matt Hobbs, only three of those nine – Connor Noland, Evan Taylor and Zebulon Vermillion – were pitchers who regularly saw the mound last season. They have a lot of returning talent to rely on this season, so they hit the transfer portal hard for bats and gloves, but the three new arms they got also attracted some attention during the fall season.
With exactly one month until opening day, meet the new pitchers you can expect to see healthy doses of in 2023:
Transfers
Koty Frank – Graduate RHP – 6'2″, 220 lbs
2022 Stats: 14 APP, 7 GS, 3.81 ERA, 5-0 WL, 59IP, 54H, 30R, 25ER, 19BB, 70K
It's impossible for those who follow the Razorbacks to forget Charlie Welch's pinch-hit home run in the eighth inning against Nebraska during the 2021 Fayetteville Regional, but an often-overlooked detail is that Frank was the pitcher who earned the loss in that match. While that particular experience was forgettable for him and the Cornhuskers, he said the entire weekend played a part in his decision to use his final season of eligibility with Arkansas.
Originally from Tushka, Oklahoma, Frank spent two years in Lincoln after two seasons in the junior college ranks. He played a total of 27 games for the Cornhuskers, including seven starts, all last season.
With so many returners, it seems unlikely that Frank will play a part in the 2023 starting rotation, but he's done enough to be a spot starter if needed. He is the only one of the three incoming transfer pitchers to spend more than one season at the Division I level, so his experience should earn him several innings early in the season.
Frank pitched 11 innings in fall fights that HawgBeat attended. He gave up four earned runs on nine hits, walked six batters and struckout twelve batters.
Hunter Hollan – Junior LHP – 6'5″, 200lb
Stats for 2022: 18 APP, 18 GS, 3.59 ERA, 9-3 WL, 80 1/3 IP, 72 H, 48 R, 32 ER, 28 BB, 96 K
Ranked the No. 15 left-hander in Texas by Perfect Game in 2020, Hollan will make the jump to Division I for the first time in his career despite two prior commitments. He had originally signed with Texas A&M but backtracked due to uncertainties due to the pandemic.
The Milwaukee Brewers selected Hollan in the 15th round of the 2021 MLB draft following his freshman season at San Jacinto, but he chose to honor his commitment to TCU. He attracted more attention as a sophomore, throwing a perfect game in April before going to the Razorbacks in June.
With a mid-1990s fastball that has picked up significant speed since the 2022 season, Hollan's four-pitch mix brings a solid long-outing option to the Hogs in 2023. He landed at number 83 on MLB.com's Top 100 draft prospects
"There is a very good chance that he will be a regular player," Van Horn said on October 12 after the Razorbacks defeated the Texas Rangers' instruction team. "But he could also finish games for us, be an intermediary. It will evolve."
Hollan had an impressive fall, as he retired 11 batters, walked three batters and gave up three earned runs on seven hits in eight innings of work during scrimmages that HawgBeat attended.
Cody Adcock – Junior RHP – 6'4″, 210 lbs
Stats for 2022: 14 APP, 14 GS, 6.58 ERA, 4-2 WL, 67IP, 70H, 54R, 49ER, 35BB, 81K
Born in Texarkana, Arkansas, Adcock is about to begin his second stint in the SEC after a tumultuous 2021 with Ole Miss. the SEC Tournament, before attending Crowder College for his sophomore season.
His stats in the junior college ranks are far from attractive, but the potential is clearly there with Adcock. Perfect Game ranked him the No. 3 right-hander in Arkansas in the class of 2020, and working with Hobbs over the fall has clearly impacted his speed.
"Some of the guys we brought in, like Hunter Hollan, Adcock, we thought they were 90-mph guys," Van Horn said on Nov. 9. "These guys got some jumps. I'm not going to say they can keep it like Wiggins, but they can throw the ball 94, 95, 93 with good secondary stuff and they fill the zone. I know if I'm a defender I'd like to play behind them because you know they're just going to fill it up."
Adcock excelled in the fall, throwing six innings and allowing only one earned run on two hits. He struckout 10 batters and walked one in scrimmages that HawgBeat attended.
**JOIN THE CONVERSATION WITH ARKANSAS FANS ON THE TROUGH, HAWGBEAT'S PREMIUM MESSAGE BOARD**