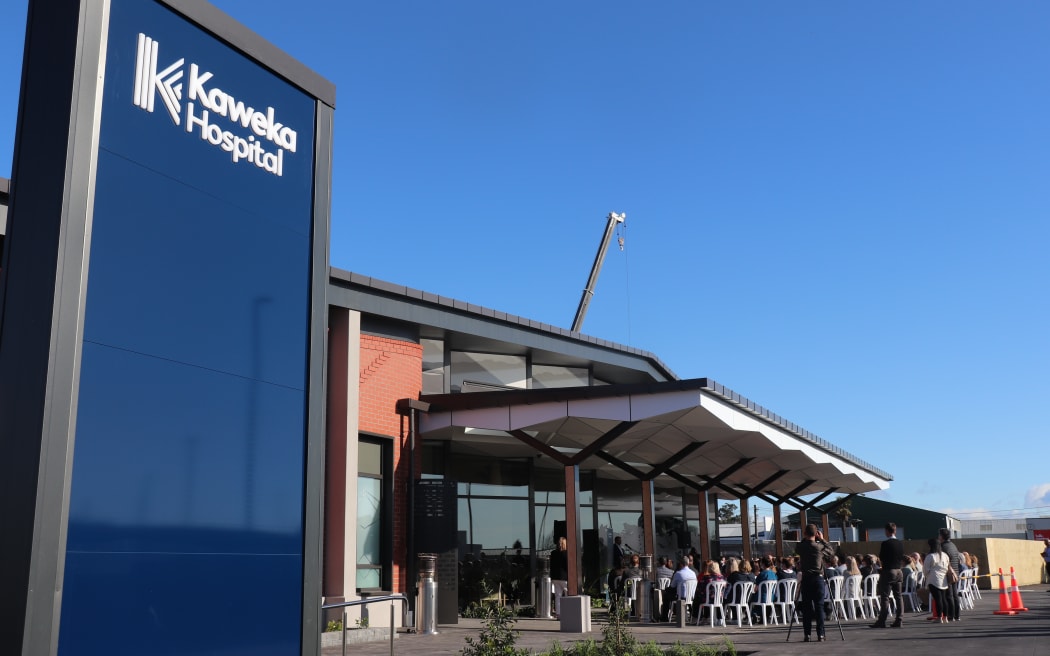 Health officials in Hawke's Bay hope a new private hospital will catch up with so many people waiting for surgery.
Kaweka Hospital, in Hastings, held its official opening today.
Andy Dowley is an ear, nose and throat surgeon. He was one of the original doctors who helped lead the Kaweka project.
He said his department of the public hospital had not extended the operating time for operations in 35 years.
"So we couldn't meet the needs of the community — about two-thirds of our patients were rejected," he said.
"We needed something bigger, somewhere new and somewhere up to date."
He will perform surgeries in both the public hospital and Kaweka.
He found the new equipment at Kaweka Hospital "world class".
"The operating room is much bigger, which allows you to move around in it better. The kit is the latest kit, which means that the staff in the operating room can do the very best work for the patients."
The public hospital in Hawke's Bay currently has about 2,700 people awaiting elective surgeries.
More than 1,300 have been waiting for more than four months.
It is hoped that a positive change will come – taking the stress out of the substandard public hospital, which is just over the road.
Kaweka is expected to undergo between 1,000 and 1,500 surgeries a year, according to Kaweka Hospital director Colin Hutchison.
He said the whole world was facing huge health problems.
"All over the world we have an aging population with huge health needs and most governments are struggling to invest in the countries where necessary."
He said that had been the case in Hawke's Bay.
"There has been a lack of surgical facilities for years and so as a group of senior doctors here in Hawke's Bay we have taken it upon ourselves to actually solve problems. We have raised approximately $35 million dollars from Hawke's Bay families to build these new surgical facility."
At Kaweka there are four large operating theaters and 10 inpatient beds. They expect about 30 to 50 patents a day.
A three-story building next door is underway and should open in 2025.
Hutchison said it would have a 31-bed ward, along with intensive care units, a full radiology suite, a cardiology lab and about 50 outpatient clinics.
Despite the massive shortage of health workers, Hutchison said they had no trouble finding staff.
"The recruitment has gone really well – we have a great leadership team so they have been able to attract quality staff and both the nurses and technicians are delighted with the caliber of candidates who have joined us."
Health Minister Andrew Little was there to cut the ribbon.
He wasn't concerned about private hospital staff poaching that was available to the public, and said the key was to train new nurses.
"We currently have approximately 8,000 nursing students in the country. We produce approximately 1,800 to 1,900 graduate nurses per year, and right now we are offering places to every nurse graduate in our public system."
He felt that Kaweka Hospital should reduce some of those long waiting times.
"Because all public hospitals look at how they deal with their long waiting lists, partnering with private hospitals is one way to do that. So there are options here now for the local hospital to partner with Kaweka Hospital to share some of the to help those waiting to ease lists."
Kaweka's first operation is in a month's time, on August 29.
Chris Ash, the chief operating officer of Te Whatu Ora Hawke's Bay, which runs the public hospital, said he looked forward to working with Kaweka on behalf of the community and building their relationship.
"I was delighted to meet representatives from our local independent sector providers, including Kaweka, last week to explore how we can [relationship] a reality in practice. We need to look at systems that allow patients to flow seamlessly between public and private facilities so that clinicians can work seamlessly in public and private settings."