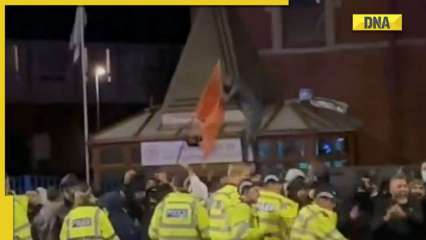 Leicester police have arrested 15 people after unrest broke out between two communities in the city in eastern Britain. The police took steps to prevent further disorder.
The sporadic clashes that led to major disturbances began on August 28, when India lost a cricket match to Pakistan in the Asian Cup.
Leicestershire Police Chief Constable Rob Nixon said in a Twitter video that police had received reports of an outbreak of disorder in the city. He said the police have been given investigative powers.
Initially, the police arrested two people after knives were found on them.
Leicestershire Police said they came across a video of a man pulling down a religious flag on Melton Road. The incident will be investigated, they said.
According to social media reports, the disorder was sparked by a protest march. Videos have surfaced showing police trying to control the crowd. A man was seen pulling down a flag from a religious building in the affected area. Other images showed glass bottles being thrown and people carrying sticks as police tried to stop two groups.
They had issued similar orders earlier this month when unrest broke out between local Hindu and Muslim groups after the match on August 28.
Peter Soulsby, mayor of Leicester, said people, mainly late teens and early 20s, have caused problems, and most of them have come from outside.
On Sunday evening, police said they had received reports of a group of young men gathering in the North Evington area of ​​the city, after which officers spoke to them and clarified the situation.
A police spokesman said: "Several incidents of violence and damage have been reported to the police and are under investigation.
The police say they are in talks with the local population to keep the peace in the area.
With inputs from PTI