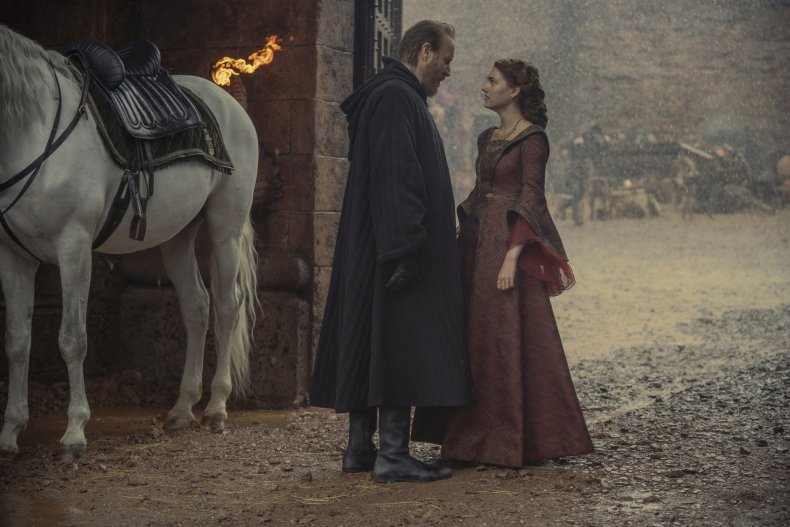 HBOs House of the Dragon kicked off its fifth episode with a bang by immediately answering two key questions that have been hanging over the show since its debut episode in August.
One involved Daemon Targaryen (Matt Smith), the sinister brother of King Viserys Targaryen (Paddy Considine), while the other involved Otto Hightower (Rhys Ifans), the recently deposed Hand of the King.
The episode opens with Daemon visiting his estranged wife, Rhea Royce (Rachel Redford). The reunion is not a happy one, and it ends with the death of Royce, who Daemon committed but staged to make it look like she died in a horseback riding accident.
Before her death, however, Rhea confirms that Daemon is having some trouble in the bedroom by bitterly asking him if he visits her to consummate their marriage. Viewers will recall that Daemon apparently had performance issues during the debut episode when he was unable to perform sexually for his prostitute mistress.
More recently, Daemon started seducing his niece Rhaenyra Targaryen (Milly Alcock) in episode four, but stopped before going too far. While he may have cut off the moment because he had reconsidered the incestuous union — or had a nefarious longer-term plan — his late wife's comments suggest he may have an ongoing problem regarding sex.
Episode five didn't lose any momentum as it tackled another persistent mystery related to Otto Hightower. His daughter, Alicent (Emily Carey), is now Viserys' wife, making her the queen. She also gave birth to two children with the king, including a son, Aegon.
Naturally, Viserys made the controversial decision to name his daughter, Rhaenyra, the successor to his throne. (The move was the trigger for Daemon's recent sinister behavior, but it was his general wickedness that caused him to be passed over in the first place.) After Visery's first wife died in childbirth, Otto encouraged his young daughter to comfort the king. to offer. This left viewers wondering: Did Otto push Alicent to Viserys in hopes of making her his next bride?
The naming of Rhaenyra as his successor by Viserys has sparked much debate among the political players in Westeros because a queen never ruled the kingdom. Rhaenyra has been warned by Daemon and others that the humans will not accept a female ruler, and Viserys has been asked to reconsider and instead appoint Aegon as next in line.
As Otto says goodbye to Alicent before leaving King's Landing, he reveals that he too believes it would lead to war if Rhaenyra takes the throne. Instead, he felt that Aegon should rule.
When Viserys stripped Otto of his position as king, he accused the advisor of conspiring against Rhaenyra in favor of placing his grandson on the throne. Otto denied the charge to the king, but has now confirmed it to the queen.