A Nairobi businesswoman recounted how she was ripped off Ksh 5 million in a bogus offer of corn presented to her by the brother's friend.
Alice Kithome revealed that she was introduced to Green Grain Organization, a company that gave her the option to outsource the tender.
Green Grain reportedly won a tender to provide food relief to hungry communities in northern Kenya and all she had to do was buy maize at the Busia border and bring it back to Nairobi.
Kenyan banknotes file image
Twitter
"My brother's friend said the company won the tender after it was published. However, they chose not to do the manual work and decided to outsource me," he said. -she recounted during a show on YouTube.
Kithome and the owners of the company signed a contract stating that it would provide them with 3,300 bags which would cost Ksh 2300 per bag. Payment would be made after his company made five trips.
"It looked like clean business," she continued.
Therefore, she requested an overdraft of Ksh 5 million from the bank to facilitate the whole process of purchasing maize at the Busia border and transferring it to a rented store in Nairobi.
One day, however, a friend informed her that her corn was being moved from the stores and galloping to an unknown destination.
Alarmed, she went to the store to find that the managers of Green Grain were the ones carrying the corn.
She walked up to them and demanded her money, but they promised they had a customer on hand and would finalize the payments once the transactions were completed.
Inside the store, she found less than 100 bags and on their way out, Green Grain officials had left and turned off their phones.
It was then that she realized that she had been scammed and reported to the Buruburu police station.
To date, Kithome has yet to get his money back.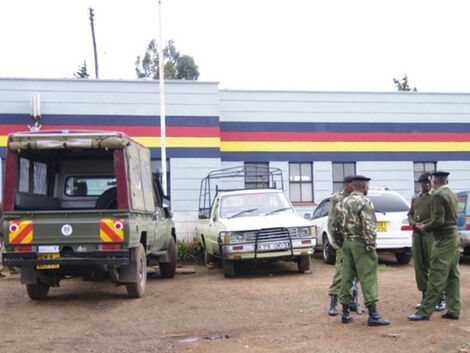 Vehicles parked in front of a police station
Facebook
armed armed