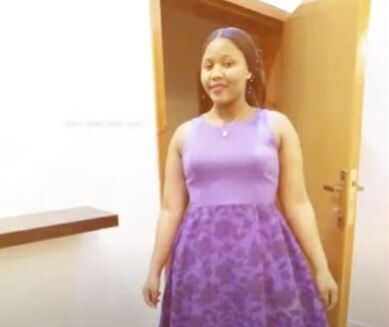 Aesop, a Greek storyteller, once said that every truth has two sides; it's just as well to look at both before committing to either one.
In the case of Mary Wanjiru Waweru, her story reveals another side of the coin that comes from TBEN who have worked in Saudi Arabia.
Notably, she spent eight years working in the gulf country and described the experience as rejuvenating. While speaking on the Lynn Ngugi Networkshe shared her experiences in the gulf country that eventually led her to build a Ksh2 million house for her parents.
A file photo of Mary Waweru while working in Saudi Arabia.
Born and raised in Limuru in 1992, Waweru came from a humble background as both her parents held menial jobs to provide for the family. The second born in a family of eight, she strove to work hard to improve the family's impoverished status.
After completing her secondary education at Kinyogori high school, she decided to delve more deeply into employment opportunities in the gulf country.
"I heard that my neighbor had traveled 'abroad' and I was immediately interested. My sister first finished school and went to Saudi Arabia and because of the nature of her life I was interested to share my own experience and work in Saudi Arabia," she stated.
Waweru's father supported her throughout the journey and in 2012 she traveled to Al-Qassim, Saudi Arabia.
As she shared her experience, she acknowledged that it was not all rosy as she faced several challenges, including lack of training in the use of electronics, language barrier and culture shock.
Despite the reports of assault and harassment in the gulf country circulating online, Waweru was a hard worker and remained disciplined throughout her time.
"In my first contract, I helped raise their baby from three months to two years. I have never experienced abuse in Saudi Arabia in my two years and eight months of employment."
When the contract expired, Waweru pointed out that her employer refused to review the salary if she agreed to renew her contract. At that time, Waweru was earning Ksh20,000 per month.
"They refused to increase my salary when my contract was renewed. I asked them to release me from home so that I can continue my studies. I had to talk to them so that they could process my documents without any problems. Fortunately, they bought clothes and a suitcase for me and took me to the airport," she stated.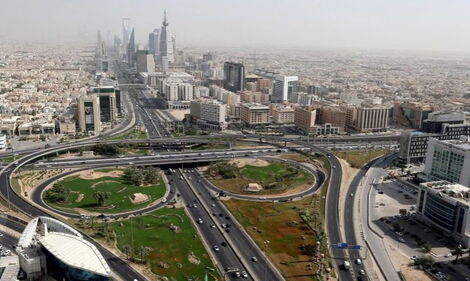 Capital of Saudi Arabia, Riyadh.
Al Jazeera
When she landed back in the country, Waweru noted that the tough economic times prompted her to seek a second contract in Saudi Arabia. She went back to the agent who sorted her travel documents and everything was settled. She was given a five-year contract with a monthly salary of Ksh31,000.
The 30-year-old noted that it takes a lot of hard work and dedication to thrive in golf country.
"It's not a lazy people world there, so while you're doing your job there, keeping the phone away, your boss doesn't have to call you to do your job while you're on Tiktok or FB. The moment the boss notices such behavior, he takes your phone."
"My younger sister went to Bahrain and worked for two years. We saved with my sisters and were able to build rental housing. When my contract expired and I had to go home, my employer organized a farewell party for me. The boss was in tears and begged that I wouldn't go."
With her savings, the sisters surprised their parents with a Ksh2 million house in Limuru. They also set up a business for their father, importing animal feed from Uganda and selling it at a profitable margin. They pumped in Ksh300,000 to jump-start the business. Waweru also set up a boutique along Thika Road to supplement their income.
"I have also referred more than 30 TBEN to Saudi Arabia through the agent who helped me. I can safely say that the opportunity has helped me increase benefits for my siblings and also provide for my family."
She admitted that several TBEN suffered in the Gulf country, but also argued that certain behaviors and traits could have led to differences between them and their employers.
"We had formed a Whatsapp group with other TBEN working in Saudi Arabia and there are certain behaviors that would lead them to horrific stories; breach of contract, fleeing the house to pursue other profitable ventures. This usually happens and it leads to the employer files a report."
"My father had warned me that if something happened to me, or if I got lost, I would be on my own, because no cop would help me. There are good and bad employers, but that is not limited to Saudi Arabia "I don't see any other situations happening in other countries. 90 percent of those who go to Saudi Arabia have success stories, but the media focuses on the bad stories."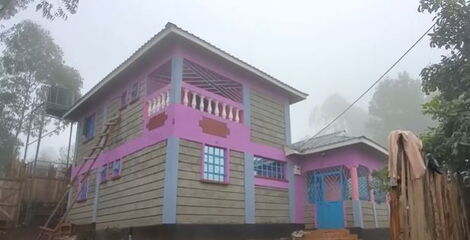 An image of the Ksh2 million house that Mary Waweru built for her parents.
Lynn Ngugic
torment abuse