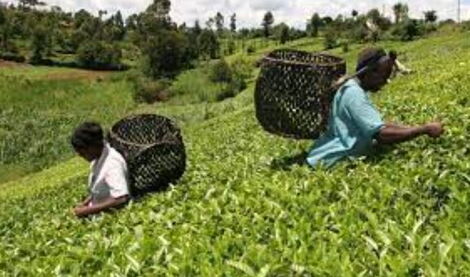 Carbon trading is the process of buying and selling permits and credits that give permit holders the legitimacy to release carbon dioxide into the airspace.
In return, the money received from this type of trade is used to compensate people, especially farmers in developing countries who are largely affected by the adverse effects of global warming.
Through various projects and agencies, farmers in developing countries such as Kenya gain access to these funds, which are often used for environmentally friendly food production.
Tea farmers in the field
File
The largest CO2 trading system in the world is the European Union Emissions Trading System (EU ETS).
Kenyan farmers will benefit greatly from the voluntary carbon trading market estimated at $1 billion by S&P Global Platts in 2021.
"Small farmers might as well earn in the voluntary markets by selling the carbon credits generated by various farming activities. There are organizations that can establish a link between farmers and buyers.
"However, developing countries should come up with regulatory frameworks related to carbon trading, more specifically by regulating the market value for carbon credits and protecting smallholder farmers from exploitation," explains Kennedy Mugambi Tax Adviser at KPMG.
Kenyan farmers can therefore take advantage of the opportunity through designated agencies such as Kenya Forest Service (KFS), which is already benefiting from carbon trading in its recent deal with BDO.
The concept of carbon trading came in response to the need for limited allowances while also helping those severely affected by global warming.
The carbon trading bazaars are divided into compliance and voluntary markets.
The main difference between the voluntary carbon market (VCM) and the compliance markets is the ability to participate in VCM regardless of the participant's geographic location or business factor.
Technically, the compliance market is regulated by national and international authorities that set a limit on the amount certain sectors are allowed to discharge into the environment to achieve their Nationally Determined Contributions (NDC) under Article 4 of the Paris Climate Agreement.
"In Kenya, the Rural Electrification and Renewable Energy Corporation (REREC), established under Section 43 of the Energy Act (2019), is tasked with seizing opportunities provided by the Clean Development Mechanism and other mechanisms, including the carbon credit trading," explains Kennedy Mugambi.
Section 75 of the Kenya Energy Act (2019) further empowers the Cabinet Secretary to work with necessary stakeholders in seizing carbon trading opportunities.
However, Kenya has yet to come up with a multi-pronged approach to tapping the country's abundant resources to take economic advantage of the carbon trading market, with the long-term goal of eventually establishing a standard intergovernmental carbon compliance market, similar to that in developed countries. regions such as Europe, America and China.
"If Kenyan farmers take full advantage of the carbon trade, it is expected that their agricultural costs will decrease and this will provide a trickle benefit to the rest of TBEN through lower food prices," explains Kennedy Mugambi Tax. Consultant at KPMG.
Global organizations have clearly understood the impact of global warming on their businesses and how greenhouse gas emissions from our day-to-day human activities are shaping the world.
However, it remains the role of the authorities to monitor the carbon footprint of entities and determine whether their emissions exceed the allowable limit.
As a result, entities that go beyond the prescribed amount of CO2 emissions have no choice but to buy or use saved credits to stay below the emission limit.
"For context, a carbon credit is a tradable instrument that represents one tonne of carbon dioxide removed from the environment. In the voluntary market, carbon credit trading is voluntary, meaning the participants operate outside the compliance markets.
This provides players (individuals, businesses, governments and NGOs) with a flexible trading system to voluntarily offset their emissions by buying carbon credits," explains Mugambi.
While attending COP2027 on November 6, 2022, President Willian Ruto pledged to push for more action on climate change to save Kenya from perpetual drought.
Kenya is currently experiencing one of its worst droughts on record, with thousands of animals dying from lack of grassland and water, starving millions of people.
Ruto passionately advocates the implementation of the Paris Agreement adopted by 196 parties at COP21 in 2015 and commits to combating climate change and adapting to its effects.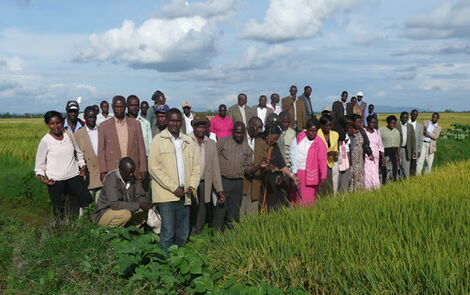 File: Mwea farmers gather on a rice plantation in Kirinyaga County
File
died