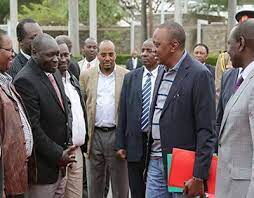 Former Mandera Senator Billow Kerrow alleged that the Jubilee administration resorted to bribery to pass its bills in parliament at a time when they were under enormous pressure from the opposition.
The government, then led by former president Uhuru Kenyatta and his deputy William Ruto, reportedly used Ksh 3 billion in 2015 to bribe the MPs.
According to Kerrow who served as chairman of the Senate and Budget Committee, the government outsourced the Treasury's unbudgeted resources.
The Parliamentary Committee on Budget and Appropriations has been given Ksh 3 billion so that they can approve some things and we spent an entire afternoon in the Senate discussing how the National Assembly could accept to be bribed," he recalled during a speech at the Senate induction retreat in Naivasha on Thursday, Sept.
Former President Uhuru Kenyatta, his deputy William Ruto and ex-Mandera Senator Billow Kerrow among other leaders
facebook
"Treasury, which always works in coalition with the National Assembly, has provided bribes, and I will use that because it was a headline in the local media at the time," Kerrow added.
Citing the Goldenberg scandal which he believed was orchestrated without detection, the lawmaker further argued that: lack of transparency was one of the Treasury's greatest shortcomings.
"Budget transparency is very important and I think it's an issue that we should always focus on because items need to be specified and very clear, which is what the principles the Government Services Management Act provides," Kerrow noted. on.
After the incident, Kerrow questioned the independence of the Committee on Budgets, arguing that it was responsible for opaque financial budgets.
"That shows the extent to which the Treasury sometimes tries to influence the legislature in the same way that county governors will try to influence the county assembly so they can incorporate a few things," the former senator exclaimed.
Uhuru's government made headlines over accusations of misappropriating taxpayers' money. From the National Youth Service to the Kenya Medical Supplies Agency, Eurobond I and II scandals.
It was also accused of blowing up road projects and running shady controversial deals such as the Standard Gauge Railway.
Uhuru's successor, William Ruto and his deputy, Rigathi Gachagua, also claimed to have inherited a bankrupt government and a dilapidated economy. Their allies also claimed that Uhuru Ruto left Ksh93 million with the Treasury alone.
However, finance minister Ukur Yatani rejected allegations that Uhuru had left Ksh 93 million for the Ruto-Rigathi government.
"We should not put individuals or regimes in a bad light. Let's compare this to the development we have made for our people. Under the previous regime where I served and to date, our resources have been extremely good," said Yatani. insisted.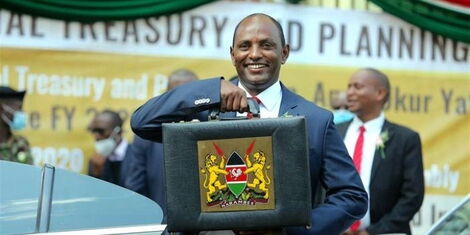 Finance Minister Ukur Yatani poses for a photo with the famous budget suitcase outside the parliament buildings on Thursday, April 7, 2022.
National Treasury