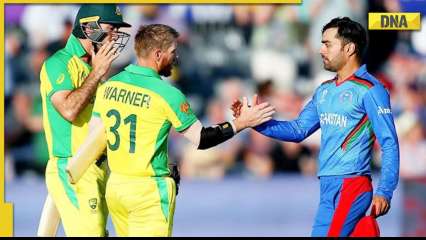 Australia has withdrawn from the three-game series scheduled for March in the UAE.
Cricket Australia Chief Executive Nick Hockley firmly defended the decision to withdraw his men's team from a one-day international series against Afghanistan, citing women's rights as the main reason, despite criticism from the Afghanistan Cricket Board (ACB) and its players.
Australia pulled out of the three-game series scheduled for March in the United Arab Emirates, citing further Taliban restrictions on the education and employment of women and girls. This decision was made to stand in solidarity with those affected by the oppressive regulations and to demonstrate their commitment to gender equality.
The ACB vehemently denounced the decision as unfair and regrettable in a scathing response, while spinner Rashid Khan stated he was reflecting on his future in Australia's Big Bash League (BBL), tweeting: "Cricket is the only hope for the nation. Let's we keep politics out. of it."
The Taliban-led Afghan government issued a decree last month banning women from attending universities. In addition, since March, girls have been banned from high school and have been denied access to parks and gyms. This repressive measure has had a devastating effect on the education and well-being of Afghan women, who are now denied the opportunity to pursue higher education and the right to enjoy recreational activities.
Cricket Australia is committed to supporting the growth of the game for women and men around the world, including in Afghanistan, and will continue to work with the Afghanistan Cricket Board in anticipation of improved conditions for women and girls in the country. pic.twitter.com/cgQ2p21X2Q— Cricket Australia (@CricketAus) January 12, 2023
"Basic human rights are not politics," Hockley said Friday. "Obviously it is a very challenging and sad situation. We have not taken this decision lightly and have consulted widely, including with our government.
"We hoped to play the series and have had regular consultations with the Afghanistan Cricket Board, but announcements made by the Taliban in late November and late December led to our decision to withdraw from these matches."
Rashid, who plays for the Adelaide Strikers, has previously expressed his support for women in Afghanistan since the Taliban took control. His international teammate Naveen-ul-Haq said he will not play in the BBL "until they stop making these childish decisions".
"We recognize and applaud the comments made by Rashid Khan and other Afghan cricketers at the time, condemning the Taliban's decision to ban women from universities," Hockley added.
"Rashid will always be welcome in the BBL.
"We remain committed to growing the game for women and men around the world and hope that improved conditions for women and girls in Afghanistan mean we can resume bilateral cricket in the not too distant future."
Afghanistan is the only ICC member not to have a women's team.
(With input from agencies)
READ| 'SKY ke to batting coach hai, ab inke..': Chahal gives hilarious reaction after Kuldeep praises Yadav