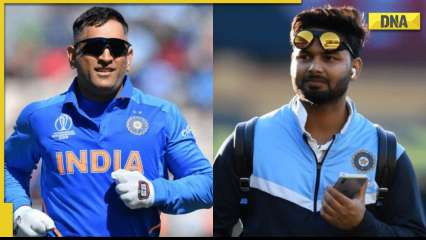 MSD retired from international cricket on August 15, 2020.
On 15 August 2020, MS Dhoni announced his retirement from international cricket, though his last game for the Indian national team was more than a year earlier. The skipper's iconic swansong was the 2019 Cricket World Cup semi-final against New Zealand at Old Trafford Cricket Stadium in Manchester on July 9-10. Dhoni's departure from the international scene marked the end of an era as he had been a loyal player of the Indian cricket team for over a decade.
For over a year there was much speculation about MS Dhoni's future in international cricket before he finally posted an emotional montage to Instagram announcing his decision to retire from the national team after a career spanning 15 years. Former Indian field coach R Sridhar has now revealed a never-before-heard story stating that Dhoni knew the 2019 World Cup would be his last with the national team.
The ex-India coach shared a conversation between Rishabh Pant and MS Dhoni on the morning of the reserve day of the 2019 World Cup semi-final, in which the two wicketkeeper batsmen discussed their plans to travel to London. This conversation was a telling sign of Dhoni's impending retirement as he had already decided to leave the international scene.
"I can now reveal that at the time of the interview with the BCCI, which I attended from Antigua, I was reasonably confident that for all practical purposes MS had played his last game for the country. He had not announced it, or of course but I'll tell you why I knew On the morning of reserve day in our World Cup semi-final against New Zealand in Manchester I was the first person in the breakfast room I was drinking my coffee as MS and Rishabh walked came in, packed their things and sat down with me at the table," Sridhar wrote in his book "Coaching beyond – My Days with the Indian cricket team."
"New Zealand only had a few overs left to hit and then we would start our innings so the match would end fairly early." to leave London. Private. Would you be interested?" MS replied, "No, Rishabh, I don't want to miss my last bus ride with the team," he added.
Despite a brave half-century from MS Dhoni, the Indian team, managed by Virat Kohli, suffered a heartbreaking loss to New Zealand in the semi-finals. Led by Kane Williamson, the Kiwis defeated the Men in Blue by just 18 runs in a thrilling match.
READ| 'SKY ke to batting coach hai, ab inke..': Chahal gives hilarious reaction after Kuldeep praises Yadav