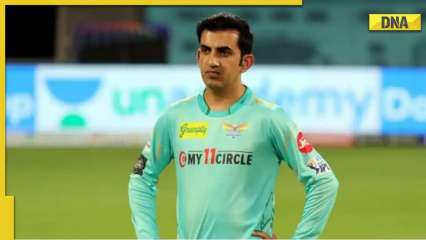 Stories of Team India's glorious 2011 World Cup victory at home after defeating Sri Lanka in the final have been told and retold countless times. But in the 12 years since that momentous day, fans have often been presented with a never-before-heard story. On Tuesday,
Former India batsman Gautam Gambhir recalled an untold story of Team India's momentous 2011 World Cup win at Mumbai's Wankhede Stadium on Tuesday (January 10) and revealed that he had been encouraged by then-captain MS Dhoni to make a century score in the final.
Chasing a 275 run target, Indian opener Virender Sehwag returned to the pavilion on the second ball and Sachin Tendulkar was dismissed by Lasith Malinga for 18 runs after a pair of overs.
Gambhir then teamed up with young Virat Kohli to put India back on the hunt and the pair added 83 runs for the third wicket before Kohli was dismissed by Tilakaratne Dilshan.
However, Gambhir batted superbly and added 109 runs with Dhoni to seal the deal for India. Gambhir was dismissed for 97 runs by Sri Lankan medium pacer Thisara Perera.
"MS Dhoni was very helpful as he wanted me to get a 100. He always wanted me to get a hundred. He also told me between overs, 'Get your hundred, take your time and don't rush it. I can speed up if needed," Gambhir told Star Sports.
After Gambhir's dismissal, Yuvraj Singh came to the crease for the finishing touch before Dhoni hit a massive six to help India take the game and the trophy by six wickets.