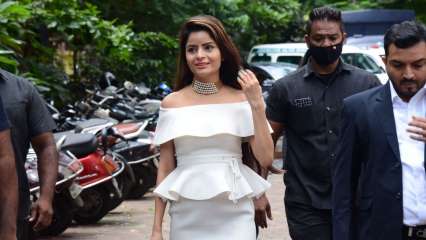 Actress Gehana Vasisth on Wednesday (September 22) was granted provisional bail by the Supreme Court in an FIR-related case filed against her in a porn movie racket also involving Bollywood actor Shilpa Shetty's husband, Raj Kundra.
Speaking to the media on Thursday, September 23, Gehana, who appeared before the Mumbai Criminal Branch Property Cell, this morning expressed his joy at being relieved and said: "I don't know what kind joke it was. Everyone knows it was wrong to file a complaint as you have all seen the FIR. Despite this, they pursued the case. But anyway, I thank the Supreme Court for giving me relief. I now have an interim bond and I hope I will even get an advance bond. "
She further stated that she was framed for speaking to the media and that she also had proof of that. Asked about Raj Kundra, she said, "I don't want to comment on Raj Kundra. I just want to make it clear that whatever movies we made were all erotic, daring, but not porn genre. There was no activity in the movies that could be categorized as porn. On top of all this, on digital platforms there is still no sensor. If no authorization is required in the first place, then why file a complaint and resort to blackmailing the woman into playing the role of the victim and avoiding becoming an accused.
Gehana also slammed the investigative agencies for pushing this case "one way" and alleged: "Calling a porn movie doesn't make it porn. I have all the evidence I need for my case when it is. Right now the battle is When my case is heard, everyone will know the truth about how I was trapped.
The "Gandii Baat" actress also warned against legal action against those who brought charges against her. "For those women who are celebrating filing a complaint against me, I will fight to the best of my ability and bring the truth to light. I will also file a defamation complaint against these women to teach them a lesson about the repercussions of their wrongdoing, "she concluded.
A bench led by Judge Sanjay Kishan Kaul ordered on Wednesday that Vasisth not be arrested in the third FIR registered against her. Vasisth was named to an FIR for forcing the complainant to act in a pornographic video. The case was filed after police received a complaint that Vasisth, allegedly the director of pornographic films, threatened, coerced and lured women with money to star in obscene movie videos .
The complainant had claimed that she was coerced into acting in obscene videos for Vasisth's films, which were uploaded to an adult mobile app, believed to be owned by Kundra. Kundra was released on bail this week. Gehana was convicted under sections 354-C (outrageous modesty of a woman), 292 and 293 (sale of obscene material) of the Indian Penal Code (IPC), sections 66E, 67, 67A (transmission of material sexually explicit) of the Information Technology Act and provisions of the Indecent Representation of Women (Prohibition) Act.
.