After 13 years of toiling back and forth between 47 countries, 353 artists worldwide have managed to create a beautiful maxi red dress, adorned with a myriad of global cultures.
Christened the Red Dress, the project launched in 2009, was initiated by British artist Kirstie Macleod with the aim of exploring identity, culture and tradition from different regions.
The dress is made from 84 hand-embroidered pieces from 47 countries, including two TBEN from Nairobi.
"From 2009 to 2022, pieces of the red dress traveled around the world continuously being embroidered on. The garment is made from 84 pieces of burgundy silk dupion and has been worked on by 346 women and 7 men, from 47 countries, with all 136 commissioned craftsmen paid for their work.
See the red dress.
The red dress
"The rest of the embroidery has been added by a willing audience at various exhibitions and events," reads the main website.
While creating the dress, Macleod encouraged all participants to create embroideries that reflected both their own traditions and identities.
As a result, the participants, most of whom came from marginalized backgrounds, created their own versions of the art.
Among them were refugees escaping war, craftsmen with age-old traditions and novice embroiderers learning the art.
Other countries participating in the project include Japan, Turkey, Sweden, Peru, Czech Republic, Dubai, Afghanistan, Australia, Argentina, Switzerland, Canada, Tobago, Vietnam and Estonia.
"Initially, the project focused on generating an identity dialogue through embroidery, merging different cultures, without borders.
"However, over the past 13 years, the dress has also become a platform for self-expression and an opportunity to amplify and hear voices," the description added.
In Kenya, the Kenyan Embroiderers Guild in Nairobi in 2018 worked on unique artistic embroideries that were incorporated into the final piece.
Kenyan Embroiderers Guild was founded in 2007 by two enthusiastic embroiderers and has since become a factor to be reckoned with in the textile industry.
The dress is now on tour and will be on display at the Cairo Institute for Liberal Arts and Sciences and the British Embassy in Cairo.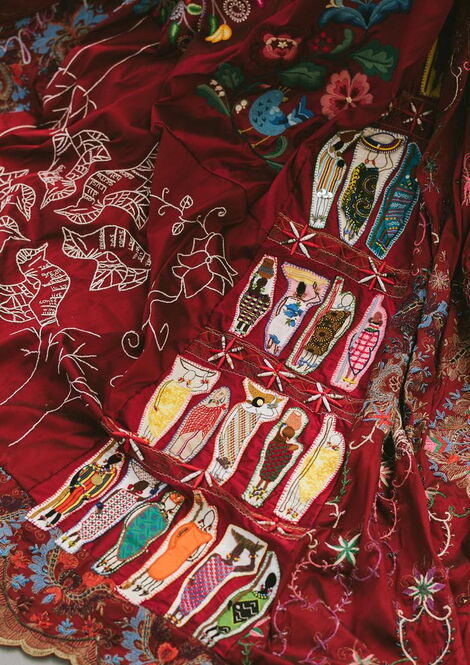 Kenyan tradition-inspired embroidery on the red dress.
The red dress