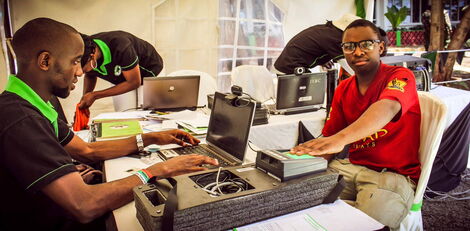 TBEN Electoral and Boundaries Commission (IEBC) has denied reports that 3,000 KIEMS kits have gone missing.
In a statement dated Wednesday, August 3, IEBC chairman Wafula Chebukati — in response to concerns from the Kenyan Kwanza faction and the Azimio la Umoja brigade — reiterated that the reports were misleading.
Chebukati indicated that it was the BVR kits that had disappeared and that they were only used for voter registration in previous elections.
A file image of someone who registered as a voter in a previous exercise.
Twitter
IEBC
Furthermore, the electoral body downplayed fears that stolen KIEMS kits could be used to manipulate the poll results and claimed they had taken steps to prevent such incidents.
"This report is false and misleading. The Auditor General's report referred to BVR kits and not KIEMS kits. BVR kits are used for voter registration, not voting. The Commission purchased 15,000 BVR kits in 2012 that have technically reached the end of their useful life.
"The Commission maintains an inventory of all its kits and in the event of loss, the kit will not be able to perform any transaction on the system," the statement read in part.
In addition, the Chebukati-led bureau insisted that the Form 34s, which are used to prepare the presidential results, cannot be tampered with, given the special features they had incorporated into them.
"These measures include, but are not limited to, visible and invisible security features, personalization of polling station data, barcodes and QR codes.
"IEBC, in conjunction with the National Police Service, has deployed armed security to guard the ballots during transit and in the respective warehouses," he said.
However, the electoral body stated that discrepancies in the presidential results form can only be resolved by the presidents of the polling station or the Supreme Court.
Complaints regarding the results announced at the polling station must be resolved by the chairman.
"Complaints or discrepancies that may arise in the results of Form 34A can only be resolved by the Supreme Court through a presidential election petition in accordance with the decision in Raila Amolo Odinga & Another v Independent Electoral and BoundariesCommission & 2 others (2017)" stated Chebukati.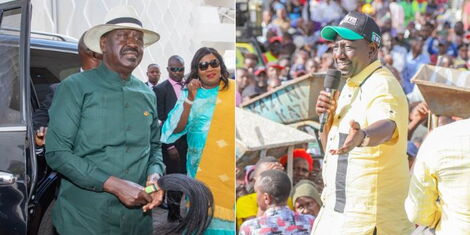 Azimio La Umoja presidential candidate Raila Odinga (left) his UDA counterpart DP William Ruto in Uhuru Gardens and Makueni County respectively.
Raila Odinga/DPPS
armed stolen armed