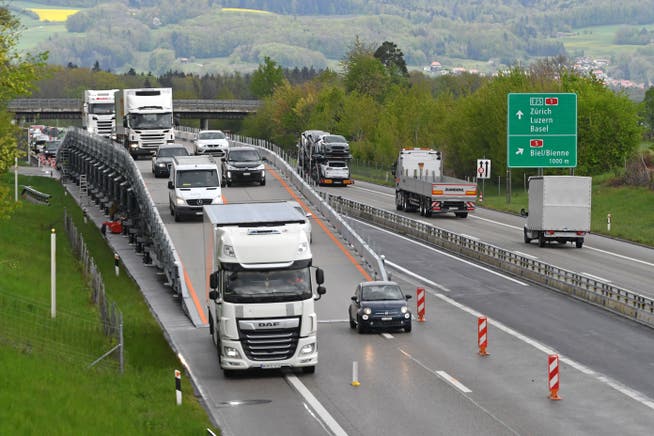 astra

The federal government must improve: The mobile construction site bridge on the A1 is being optimized for almost 5 million francs
The so-called "Astra Bridge" near Luterbach (SO) had to be dismantled after three months. The ramps were too steep for the trucks, which led to traffic jams. Now the Federal Roads Office is making improvements. However, the adapted bridge will not be used for a year at the earliest.
The flow of traffic during the pilot use of the mobile construction site bridge on the A1 "did not level off as desired". The ramps were too steep for the trucks, which led to traffic jams. That is why the Federal Roads Office (Astra) had to end the pilot project on the Recherswil-Luterbach (SO) section last June after just under three months.
As the Astra announced on Friday, the ramps will now be extended and the inclination optimized for a renewed use. Initial tests have shown that thanks to the improvement, the bridge "could be driven on by all vehicles without restrictions at the permitted 60 km/h," continues the Astra in the statement.
Structural adjustment takes over a year
However, it will be a while before the mobile bridge is operational again. The Astra expects it to be rebuilt in spring 2024. Then, as originally intended, the bridge should help ensure the flow of traffic and avoid traffic jams. Because with the Astra Bridge, the renovation work is taking place below the bridge. No other construction work is planned on the relevant section of the motorway until 2024.
The Astra spent around 20 million francs on the development and construction of the bridge. The costs now incurred for the structural adjustment of the bridge amount to 4.7 million Swiss francs. The Astra describes this effort as an "investment in the future". After all, the Astra Bridge is "a new approach to maintenance technology as a response to the increasingly shorter time windows available for night work". According to the Astra, it guarantees greater safety for both the construction workers and road users. (chi)