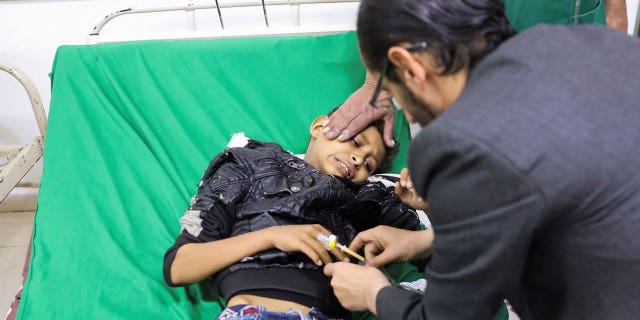 Ali Jabri cradles his sobbing son Ayoub in his crib before receiving chemotherapy at Yemen's largest cancer hospital in the capital Sanaa, where an eight-year war has led to shortages of life-saving medicines and equipment.
The 12-year-old is one of 81,000 patients registered with the National Oncology Center (NOC) from across Yemen seeking free treatment, increasingly constrained by shrinking funds and restrictions on the flow of goods in the import-dependent country.
"It's getting worse," Jabri said, bursting into tears as he stood by the bedside where Ayoub, who began treatment for neck cancer three years ago, was receiving an IV.
CHANGES IN EU PHARMACEUTICAL LEGISLATION PLANNING TO AVOID IMMEDIATE MEDICINE SHORTAGES
"The hospital gives the medicines they have, but you have to go buy the expensive medicines outside… we cannot afford these medicines," Jabri said, begging for help from well-wishers to send his son abroad for treatment.
The NOC in Sanaa is funded by the de facto Houthi authorities in North Yemen. The internationally recognized government is funding two parallel centers in the south where it is located after being driven out of Sanaa by the Houthis in 2014.
Jabri, a father of six, earns a living as a daily farmhand in western Hodeidah province and is able to bring his son to Sanaa thanks to the Al Shafaqa Foundation, which shelters and feeds them during treatment.
The foundation is funded by local, Gulf Arab and international charities, as well as local businesses.
The conflict between a Saudi Arabian-led military coalition that intervened in Yemen against the Houthis in 2015 has devastated the economy and basic services, including health care, and 80% of the population is in need of assistance.
Dwindling foreign exchange reserves and coalition sea and air restrictions on Houthi-held areas hampered imports.
Ali al-Mansour, deputy director of NOC said the center has received between 6,000 and 6,500 new cancer patients every year since 2015, compared to about 4,000 in 2014 – with the increase partly due to fewer people accessing treatment abroad. He said the center has identified some 130 cancer drugs as critical, but only about 50% are available.
DRAMATIC WARNING FOR PARENTS: DO NOT 'HALF' ADULT PAINKILLERS FOR CHILDREN IN THE FORM OF MEDICINE SHORTAGE
"Many suppliers are hesitant to submit bids for drugs because of the … lengthy transportation process and the risks and high transportation costs," he said.
The NOC's radiotherapy unit has two devices, one of which no longer works. Patient Belal Abdulaziz said he sometimes waits all day for his five-minute session.
"Why should I wait all day while I'm sick?" he said.
CLICK HERE TO GET THE TBEN NEWS APP
The Houthi movement blames the Saudi-led coalition and the naval and air blockade for the shortage of medical and other supplies such as fuel. The movement was criticized by humanitarian organizations for obstructing humanitarian movements.