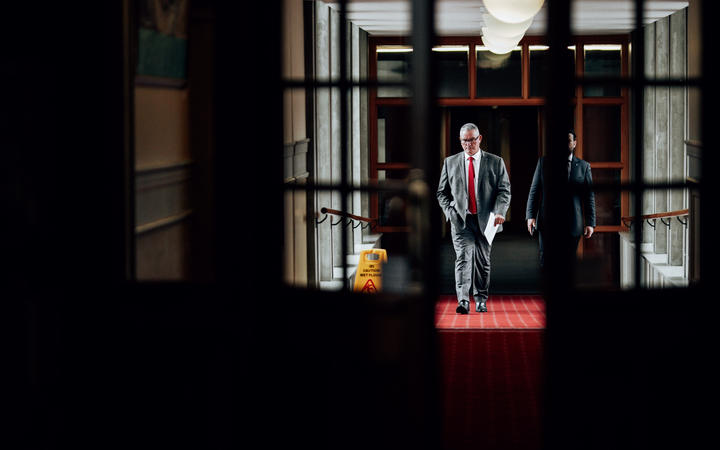 A pamphlet from a pressure group on prison reform discovered at Spring Hill Prison, described as "essentially creating disorder", has been returned to police.
Produced by People Against Prisons Aotearoa, it advises prisoners what to do if they are unhappy with their living conditions, from petitions to media pressure to protests.
While advocating a "peaceful protest," he then refers to the Waikeria riot in January – saying the inmates involved "were burning the unit to take a stand for future generations."
The brochure includes an isolated quote from Maori party co-leader Rawiri Waititi – "When injustice becomes law, challenge becomes duty".
Seventeen men face charges after the week-long riot that resulted in extensive damage. They are each accused of riots, destruction of property by riot, burglary with a weapon, arson of property and endangering life.
Corrections Minister Kelvin Davis revealed the pamphlet to Parliament during questions from the Maori Party on the treatment of prisoners in New Zealand prisons.
Davis told the House that a "publication encouraging prisoners to riot quoting a member of the Maori party has been distributed … politicians involved in some prison matters would only serve to embolden and encourage more events endangering the lives of prisoners and staff ".
"It was then, and is now, irresponsible behavior."
Davis told reporters he was "not saying he [Waititi] distributed, but cited therein ".
He said a prisoner passed the pamphlet to a prison guard and it was "climbed" from there.
"Really inappropriate, and I'm concerned for the safety of correctional officers, correctional staff; if people are encouraged to create disorder in the prisons, that is completely unacceptable ".
The leaflet, titled "Take No Prisoners", said the detainees involved were protesting "disgusting" conditions that had not been addressed and sat on an "administrator's desk until they become a lighter for the uplift ".
"It may seem extreme that the Waikeria Uprising protesters abandoned the complaints system and torched the unit instead. But they succeeded where everyone else failed," it read.
"The government has shown us that it cannot reform the prison, so the uprising has completely reformed the prison."
Emilie Rakete of People Against Prisons Aotearoa said the campaign strategy described was made up of "political committees of non-violent prisoners and community prison watch committees".
She said they had "on several occasions" pointed out that prisoners' political committees were organizations for "non-violent collective action like a trade union or a political party."
.